We have returned from excellent skialpinism trip (April 25 – May 12) to Kamchatka-peninsula in May 12. From the skiing point of view the trip was excellent, as we did not use ski boot only during our departure back to Europe in May 12. Besides the fact, that the weather was not mostly pleasant, we succeed with four higher active and non-active volcanos, and with many smaller peaks. Some results: probably the first skiing from volcano Bakening (2278 m), Slovak men & women first skiing + Czech women first skiing from volcano Korjakskij (3456 m), etc. The trip was prepared by MountainSki.cz & Společnost Medici.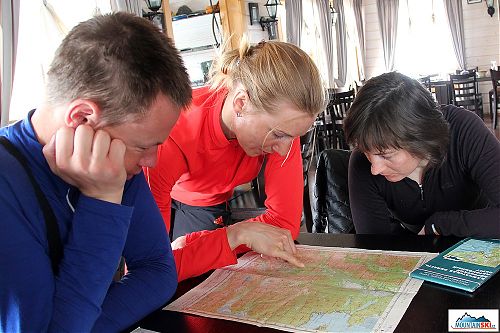 Matúš & Mirka are watching reccommendations of Slovak's gold Olympic medailist in biathlon – Anastasiya Kuzmina – in the valleys of rivers Paratunka and Karymcina (CLICK TO ENLARGE)
Announcement of the trip: Skialpinistický výlet na Kamčatku v dubnu až květnu 2013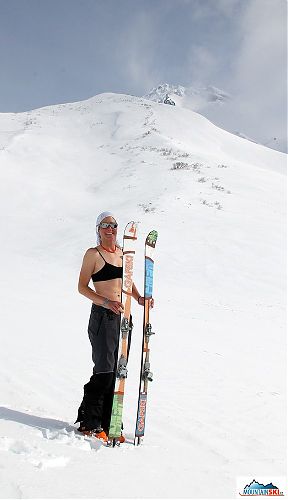 Katka with Italians's skis Gafski next to volcano Viljuchik (CLICK TO ENLARGE)
During our skialpinism trip to Kamchatka we have thoroughly tested:
There will be detailed articles about experience with above mentioned material, if it was not already done.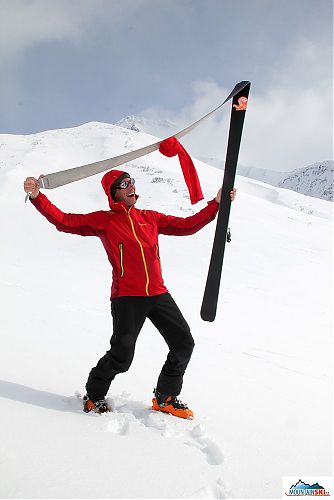 Smiling Matúš using G3 love glove (CLICK TO ENLARGE)
Photogalleries from Kamchatka:
Kamcatka 2013 – review photogallery bye Matúš – 151 photos
Ski Kamchatka 2013 – Bakening volcano (2278 m)
Ski Kamchatka 2013 – Koryaksky volcano (3456 m) – excellent day at Kamchatka, May 7
Ski Kamchatka 2013 – Avachinsky volcano (2741 m) – perfect ski day on active volcano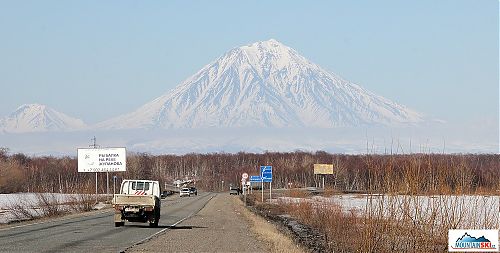 Ski Korjaksky – altitude 3456 meters (CLICK TO ENLARGE)
A short overview of our activities at Kamchatka:
April 25 – a half hour after midnight we left from Vien to Moscow, we wait for the flight to Kamchatka at Seremetevo's a­irport; the first acclimatisation for Russia – several Baltika'b beers
April 26 – the flight to Kamchatka was significantly delayed due to health trouble of one passenger, we returned about 200–300 miles from Moscow to Seremetevo. We landed at Kamchatka very late in the afternoon. We rearranged our backpacks fastly and followed directly to the valley of river Paratunka towards to volcano Viljuchik (2173 m)
April 27 – May 1 – we spent all the time in the area of volcano Viljuchik, instead of this volcano here, we climbed & skied a lot of other peaks
May 1 – a big evening's party for the First May
May 2 – May 5 – the area of volcano Bakening (2278 m) – first ski descent on skis from the summit of Bakening, further for example peak Palec (1225 m)
May 5 – celebration of Easter in Petropavlovsk-Kamchatskij
May 6 – May 9 – the area Korykaky-Avachinsky; all nine participants summited to Koryaksky (3456 m), Pažout climbed up to 3050 meters on skins & skis (!). Czech women's first ski descent – Clarion & Katka, Slovak men and women first ski descent – Matúš, Mirka, Marta & Roman. Followingly Avachinsky in the group of seven people.
May 9 – army parade for "Den pobedy" (The day of victory) in Petropavlovsk-Kamchatskij
May 10 – city ski-touring in Petropavlovsk-Kamchatskij – four people
May 11 – a peak above Termalnyj in snowing, raining, fog and & strong wind; Antarius hot springs later on
May 12 – the flight back to Europe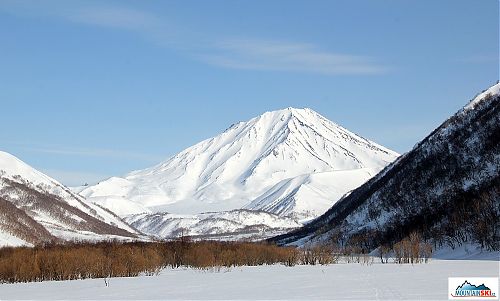 Volcano Bakening 200 km from Petropavlovsk-Kamchatskij (CLICK TO ENLARGE)
The weather was not the best one – David and his two colleagues had much better weather last year – Kamčatka 2012, skialpinistická expedice HO Tigi-Shu Praha, i.e. excellent weather for two days, acceptably good weather three days, and the rest – snowfalls, raining, strong fog & wind. Besides that, we had been skiing every day instead of the only one day! There will be more details published soon.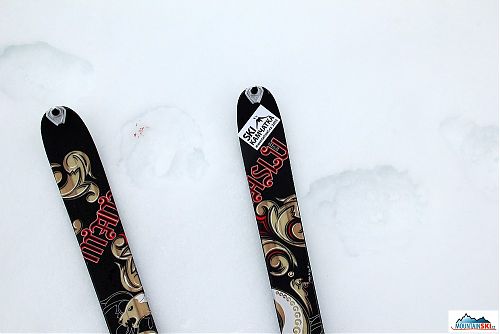 Skis Dynafit Manaslu and fresh bear's tracks, one paw is injured (CLICK TO ENLARGE)
Previous skialpinist trips to Kamchatka:
Kamčatka 2009 – skialp a snowboard
Kamčatka 2003 – webová stránka byla zrušena, výhledově se to obnoví
Kamčatka 2002 – první skialpinistický výlet na Kamčatku, řada českých prvosjezdů včetně nejvyšší sopky Ključevskaja (4750 m) na sever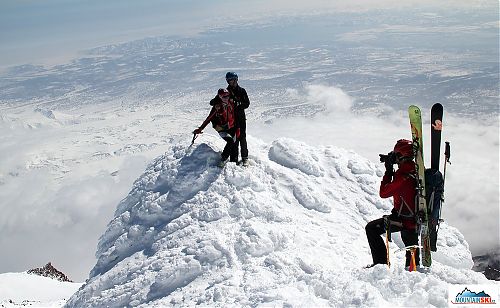 Matúš taking photo of Clarion & Pažout on the summit of volcano Koryaksky (CLICK TO ENLARGE)
Participants:
1. Jan Pala (skialp, Klecany, Jablůnka, Česká republika) – vedoucí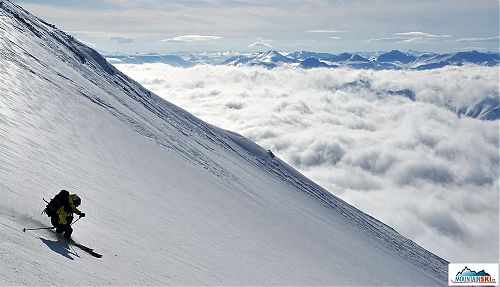 Jan Pala skiing from volcano Viljuchik. Photo: Roman Gregus (CLICK TO ENLARGE)
2. Aljona Denshchik (skialp, Petropavlovsk-Kamčatskij, Rusko)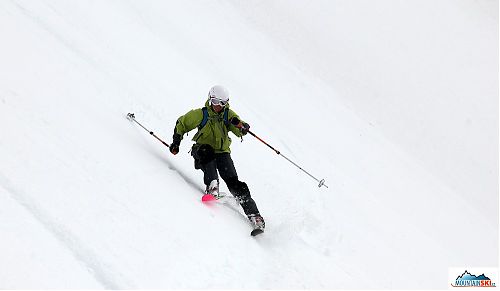 Aljona Denshchik skiing in the area of volcano Bakening (CLICK TO ENLARGE)
3. Matúš (skialp, Višňové, Slovensko)

Matúš skiing from one of many peaks in the area of volcano Viljuchik (CLICK TO ENLARGE)
4. Mirka Kuchyňová (skialp, Višňové, Slovensko)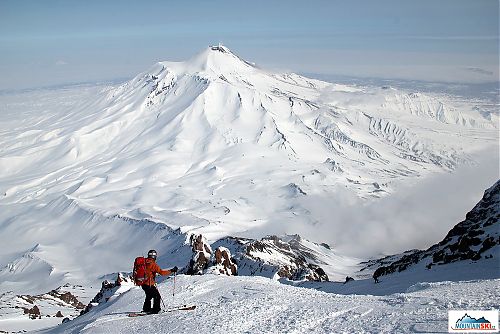 Mirka Kuchyňová skiing from volcano Koryaksky (CLICK TO ENLARGE)
5. Jiří Kočara (skialp, Kunčičky u Bašky, Česká republika)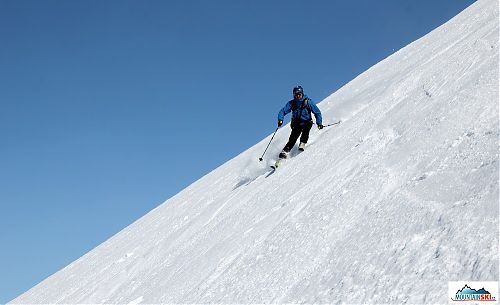 Jiří Kočara skiing from volcano Avachinsky (CLICK TO ENLARGE)
6. Klára Kočarová-Pechová (skialp, Kunčičky u Bašky, Česká republika)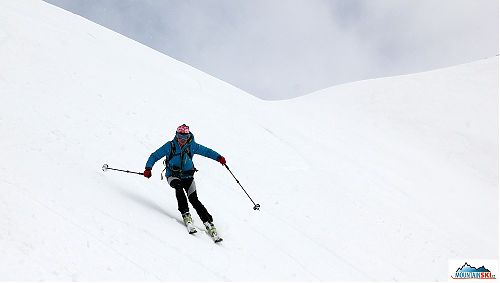 Klára Kočarová Pechová skiing in the area of volcano Bakening (CLICK TO ENLARGE)
7. Marta Furdiková (skialp, Turecká, Slovensko)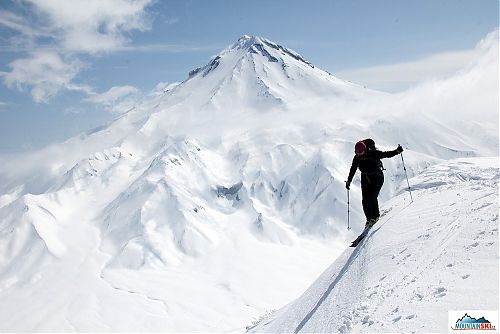 Marta Furdíková skiing in the area of volcano Viljjuchik (CLICK TO ENLARGE)
8. Roman Gregus (skialp, Martin, Slovensko)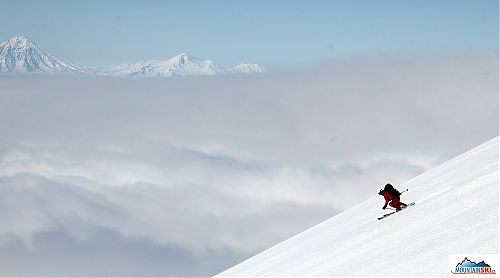 Roman Gregus skiing from volcano Viljjuchik (CLICK TO ENLARGE)
9. Kateřina Maťátková (skialp, Brno, Česká republika)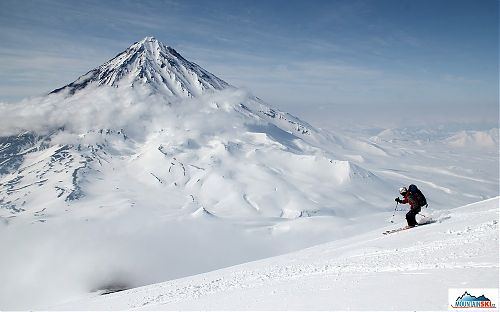 Kateřina Maťátková skiing from volcano Avachinsky (CLICK TO ENLARGE)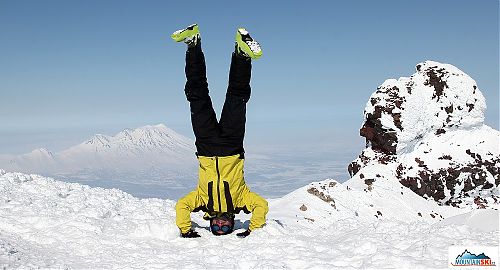 On the summit of volcano Koryaksky – palič (CLICK TO ENLARGE)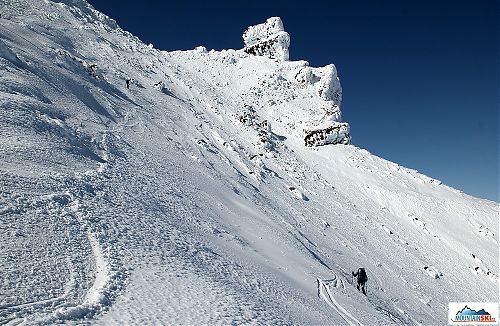 Clarion skiing in the upper part of volcano Koryaksky (CLICK TO ENLARGE)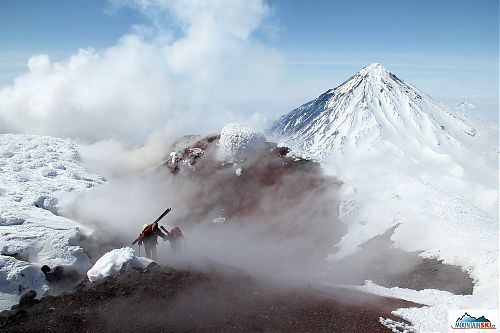 Roman & Matúš climbing through fumarole at the top of volcano Avachinsky, volcano Koryaksky in the background (CLICK TO ENLARGE)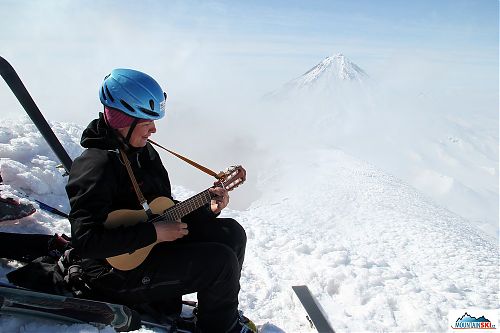 Impromptu guitar performance at the top of the volcano Avachinsky by Marta (CLICK TO ENLARGE)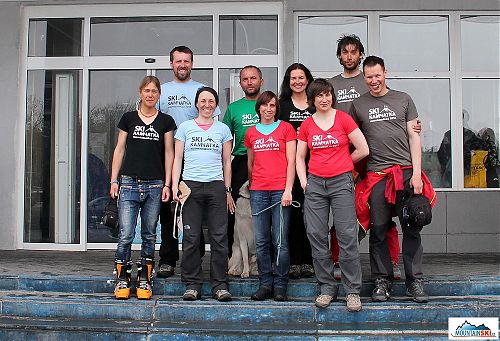 A whole group of skialpinists – the Czech Republic, Slovakia & Russia – in the front of the airport in Petropavlovsk-Kamchatskij before the departure to Moscow (CLICK TO ENLARGE)