I had participated at Dynafit Press Event that was hold at the hut Rifugio Fanes (2060 m) in the Dolomites in the middle of January 2013. There was a great opportunity to do ski-touring trips in the prototype of new shoes Dynafit TLT6 Performance CR in January 10–13. Except of these shoes I had used skis Dynafit Nanga Parbat and Dynafit Cho Oyu.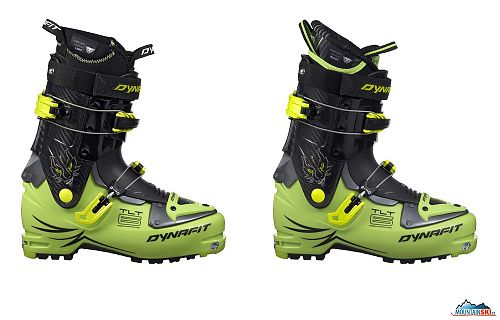 Prototypes of shoes Dynafit Performance with carbon, liners CL on the left, CR on the right (Click to enlarge)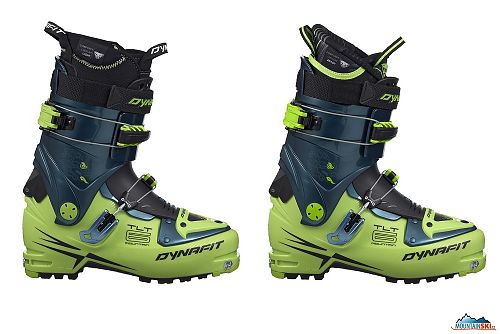 Prototypes of shoes Dynafit Mountain, liners CL on the left and CR on the right (Click to enlarge)
We got skis and skins next to the hut at Pederü. Dynafit also prepared several models of shoes. Prototype of Dynafit TLT6 were still "warm" from the production, and the shoes were in my size – 27.5, so I got them. I was surprised almost immediately, as I was not able to stay comfortably in a lines in my ski-touring socks Moose, as the liner Dynafit Custom Ready push me everywhere. There was only my calm free, as the upper buckle was not open.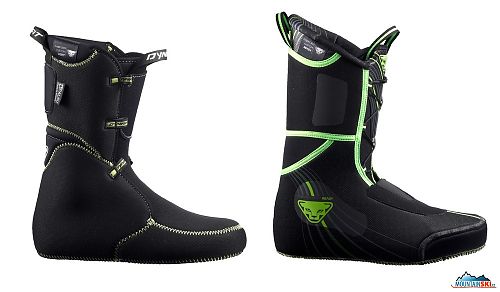 Liners TLT6 Custom Light on the left and Dynafit TLT6 Custom Ready on the right (Click to enlarge)
I usually purchase ski-touring shoes smaller, as the liner is able (if it is not thermoflex version – Vypaľujeme papuče v teple domova) to adapt to legs just after several skialpinism trips. Dynafit Custom Ready was different story. After the discussion with Giovanni Pagnongelli – "The liner will adapt perfectly to your feet during the first hour of your ski-touring trip", I stayed in TLT6, and followingly I liked them!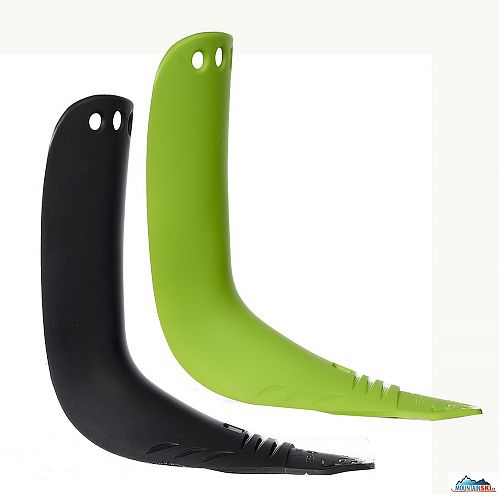 Easily changeable booster tongues – black is hard & green is soft (Click to enlarge)
We climbed from Pederü to the hut Rifugio Fanes (2060 m) almost in the dark, and I decided not to use any of tongues – soft green or hard black. Upper buckle remained open. Our 4 members of the Czech group started as the first ones.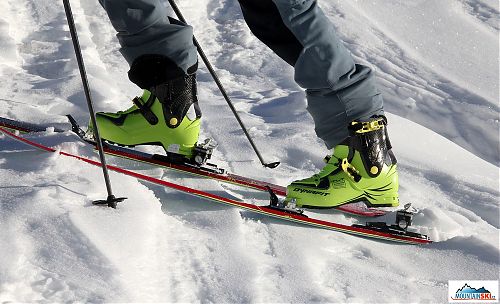 Dynafit TLT6 Performance while ascending – both buckles are open (Click to enlarge)
Giovanni Pagnongelli was 100 % right. Both liners perfectly adapted to the shape of my legs during the skinning to the hut (approx. 1.5 h). I forgot, that I was almost not able to get in the shoes at Pederü.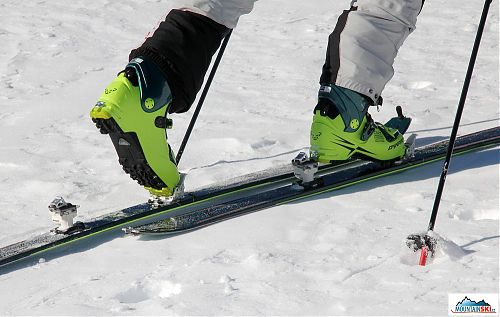 Dynafit TLT6 Mountain while ascending – upper buckle is open (Click to enlarge)
I had used Dynafit TLT6 Performance for skiing, walking and skiing during the next three days. We were skiing on slopes with different steepness and quality of snow:
Ski touring trip to Bivaco dela Pause 2780 m just below Monte Castello in the Dolomites
Ski touring trip to Cima Dieci – Zehner Spitze (3026 m) in the Dolomites in January 2013
Skialpinism trip to Col Bechei de Sora (2794 m) in the Dolomites on Sunday, Jan 13h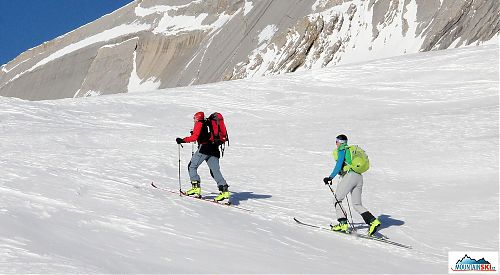 On the way to Zehner Spitze, first Dynafit TLT6 Performance & second Dynafit TLT6 Mountain (Click to enlarge)
After the above mentioned tours in the Dolomites, I was excited from the prototype of Dynafit TLT6. In my personal opinion and evaluation I have to confirm, that Dynafit TLT6 has a range of great features. The brand new liner CR after the initial push had adapted very quickly to my foot and it fit perfectlyt. It was easy to put on thanks to an auxiliary holders on the tongue inside shoes, as well as on the back. Inner shoe was ideally warm for the weather that we had in the Dolomites – but I do not know what would happen with the comfort, if the outside temperature drop down to –30 to –40 C. Most of the time I spent with it the bottom adjustable buckle was closed and it worked well.

Fully open Dynafit TLT6 Performance with soft green tongue just below the summit rock at Zehner Spitze (Click to enlarge)
Shoe with closed the bottom buckle fit nicely on leg, and it enabled large anteroposterior movement above the ankle, that one might think that Dynafit TLT6 is the trekking boots. On the contrary, when you switched to ski mode via the upper buckle, the shoe was so solidified that I did not use either of the supplied tongues ​​- hard black or soft green at all. It was not point for me to use any of the tongues, because the shoe itself, when switched to ski mode by the upper buckles was so sold, so that I felt that I was using very hard classic downhill ski boots.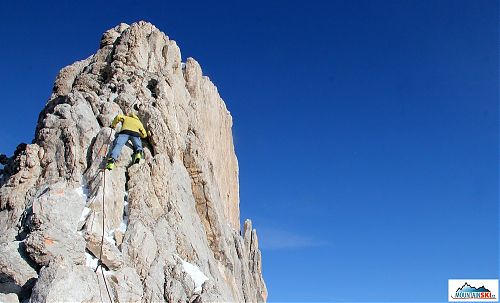 Via ferrata to Zehner Spitze – shoes Dynafit TLT6 Performance (Click to enlarge)
The upper buckle has three settings for different sizes of calves, so you can customize the shoe of a large range of sizes of calves. Dynafit patented locking system of the upper buckle is very simple, functional and easy to use. Compare it with different mechanisms and rotary latches used for other shoe does not make sense. I can say that Dynafit TLT6 is the best rando shoe I have ever used from 1995 until 2013.

Dynafit TLT6 Mountain in the Dolomites (Click to enlarge)
From my perspective, the only negative issue of tested prototype Dynafit TLT6 was short tie around the shell that can not be removed. Developers counted at this point clearly to the fact that the shoe will be used only by people with a very small calves. The official version of these tapes will be longer. Tapes for the entire period I did not use, because it was not necessary at all.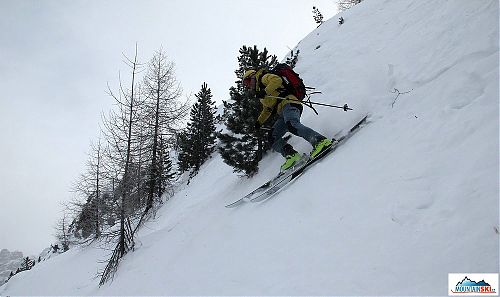 Dynafit TLT6 Performance and skis Dynafit Cho Oyu in a little steep terrain (Click to enlarge)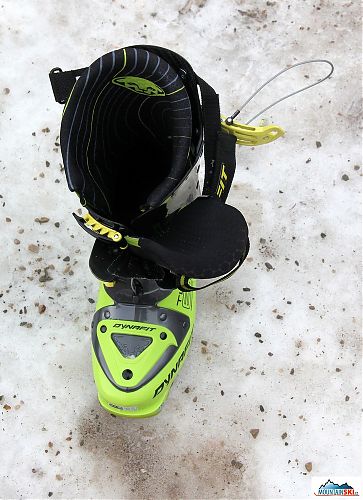 Just took off shoes – parking place at Pederü (Click to enlarge)
Some advantages of Dynafit TLT Performance CR:
strength of shoe for downhill
comfort of the shoe for ascend and walking in general, if only upper buckle is open
snadno vyměnitelné jazyky pro výstup a lehké sjezdy zelený, zatímco pro náročně sjezdy černý karbonový
very easy and fast changing in between ski and walk modes – by using only one buckle it is possible to change almost trekking shoe to very hard shoe convenient for arbitrary hard downhill
excellent liner CR
fantastic weight – 1210 g per boot 27,5 for Dynafit TLT6 Performance CR and 1050 g per boot 27,5 for Dynafit TLT6 Performance CL
Disadvantages:
there is a short stripe around the boot, it is not separatable, the official one will be longer to cover different sizes of calms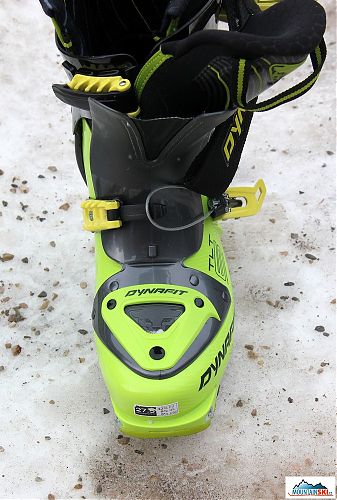 Just took off shoes – parking place at Pederü, none of black or green tongue are used (Click to enlarge)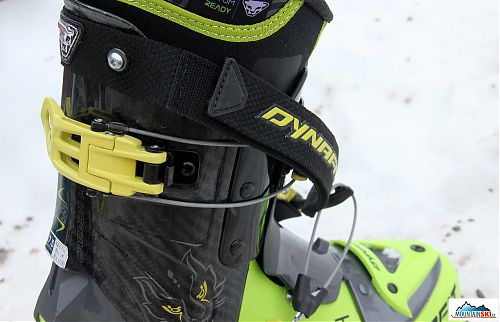 Detail of the upper buckle (Click to enlarge)