We had time for skiing only up to 11 a.m. on Sunday, Jan 13, 2013 – during the last day of Dynafit Press Event at Rifugio Fanes (2060 m). We had to leave from the Pederü parkplace to be quite soon back in Prague. Thus, it was enough to have less than half a day was enough for a skialpinism trip to Col Bechei de Sora (2794 m) just above Rifugio Fanes (2060 m). We started in the dark – whole hut was sleeping.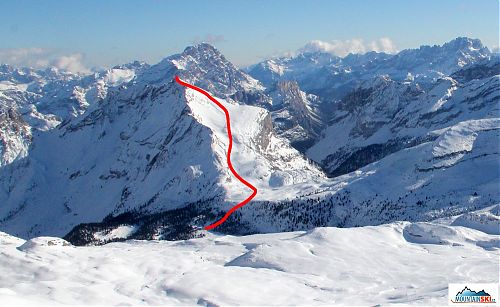 Uphill and downhill route in between Rifugio Fanes and the summit of Col Bechei de Sora (Click to enlarge)
Further reading:
Excellent Dynafit Press Event in Italian Dolomites in January 2013
Ski touring trip to Bivaco dela Pause 2780 m just below Monte Castello in the Dolomites
Monte Castello History Tour from Fanes Hut — Italy
Zehner from Refugio Fanes — Better Skiing and still Classico
Nové trendy: skialpinismus už nejsou jen rovná prkna, ale paleta lyží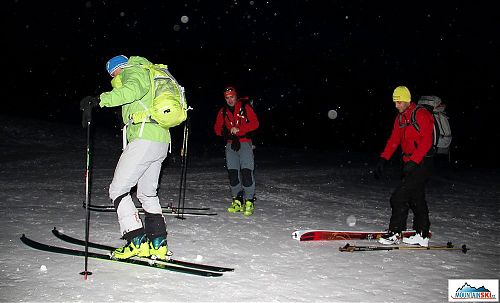 We started from Rifugio Fanes in the dark (Click to enlarge)
We got on our skis before 7 a.m. We reached fastly the pass (2172 m). Followingly, we traversed to relatively steep terrain, where the climb on the hard frozen surface was not the ideal one. We continued by steep traverses up to the plateau above rocky wall. We turned left and a short time after we took off skis and attached them to our backpacks. We reached the ridge on feet directly, then turn right and final part to the summit with quite big cross was just in the front of us.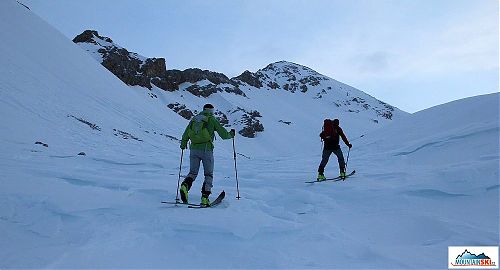 The surface of the plateau was not flat and smooth (Click to enlarge)
There was quite fresh wind on the summit, so we spent there just a short time. The summit book was missing as the box for the book was destroyed. Skiing down from the summit was quite nice – majority of the downhill was on the hard surface. My colleague and I skied down directly from the pass to Rifugio Fanes via quite steep terrain.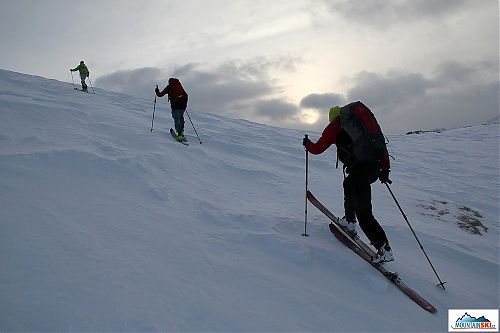 The sun had started to rise through the clouds (Click to enlarge)
We said goodbye in the hut, and there was a long downhill waiting for us. The skiing down to Pederü was excellent, the only trouble was found in the final part just above the valley with quite a lot or small stones and rocks.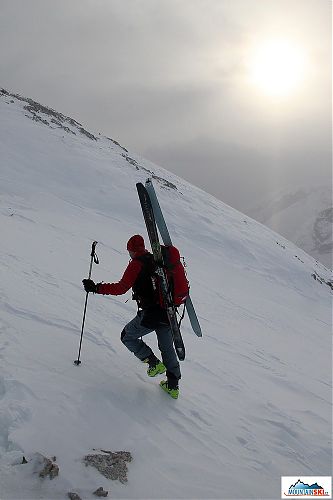 We reached the ridge on feet with skis attached to backpacks (Click to enlarge)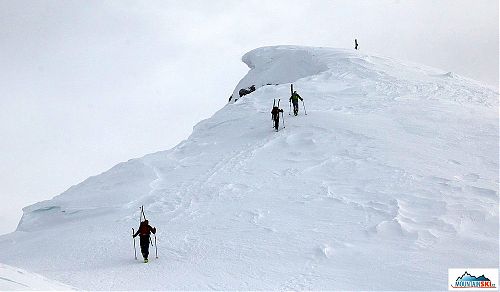 The summit of Col Bechei de Sora is almost here (Click to enlarge)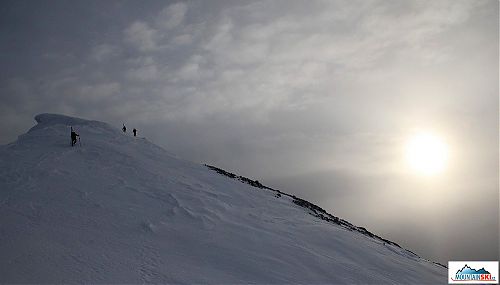 Just next to the summit of Col Bechei de Sora (Click to enlarge)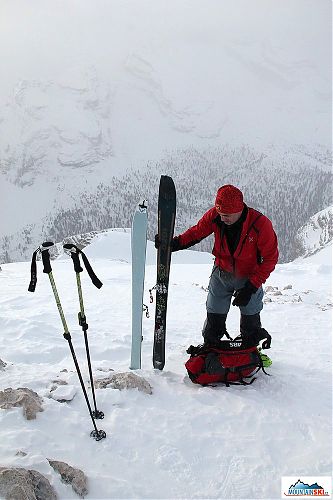 On the summit of Col Bechei de Sora – skins off skis Dynafit Cho Oyu (Click to enlarge)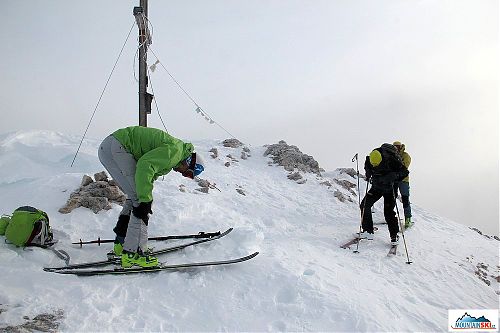 We are almost ready for downhill from the summit of Col Bechei de Sora (Click to enlarge)

Beginning of the downhill was on the ridge (Click to enlarge)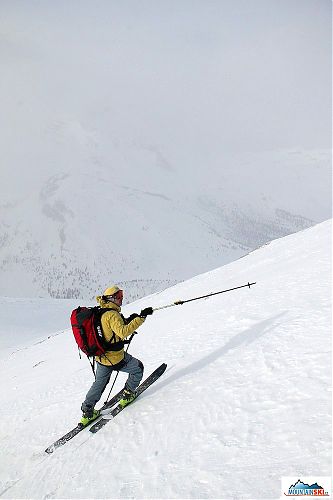 The snow was very hard (Click to enlarge)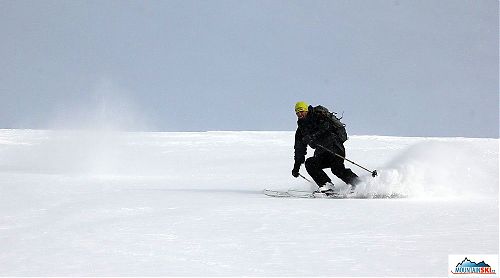 Downhill from Col Bechei de Sora (Click to enlarge)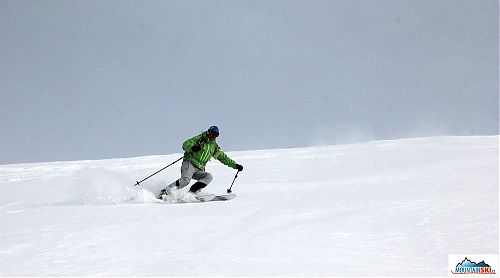 Downhill from Col Bechei de Sora – the slope has nice angle, so whole base of ski is visible (Click to enlarge)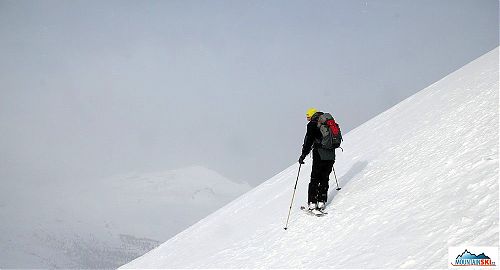 Relaxation while skiing (Click to enlarge)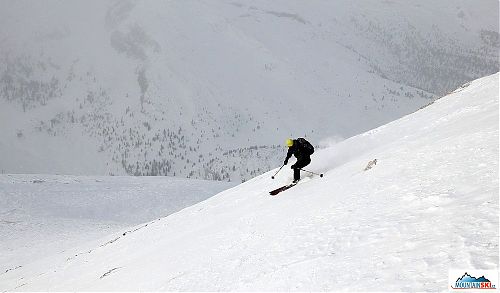 Downhill above plateau (Click to enlarge)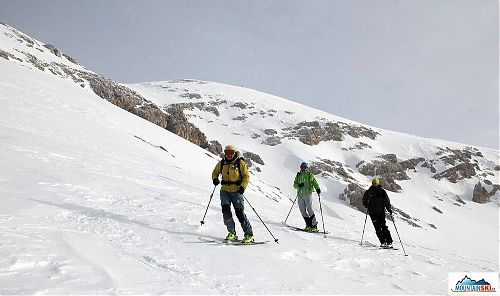 Skiing on the gentle slope (Click to enlarge)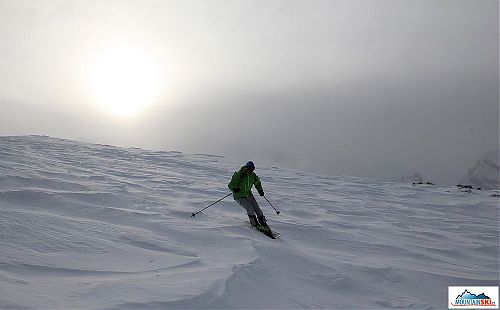 It was good fun on the slope from time to time (Click to enlarge)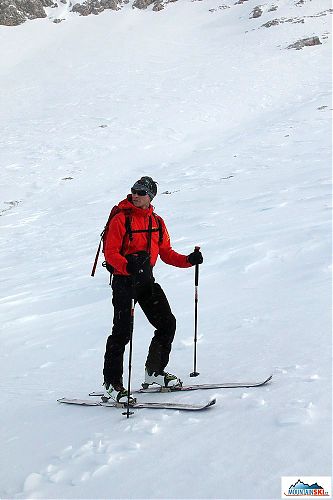 Our group is skiing down, whereas colleagues from France are uphilling (Click to enlarge)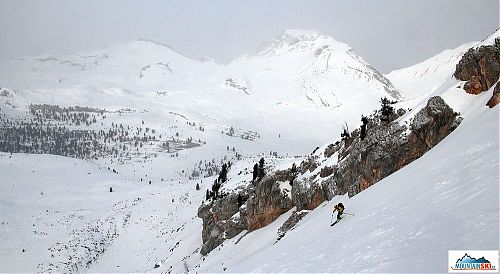 Hazy Dolomites, the sun is on holiday part of Sunday (Click to enlarge)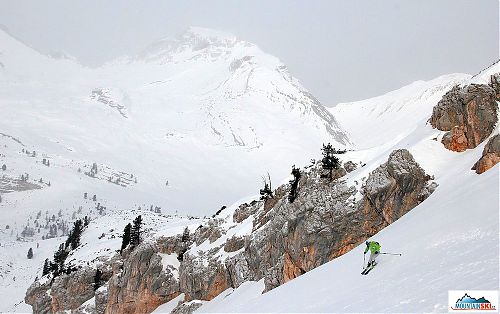 Fantastic skiing down to the valley (Click to enlarge)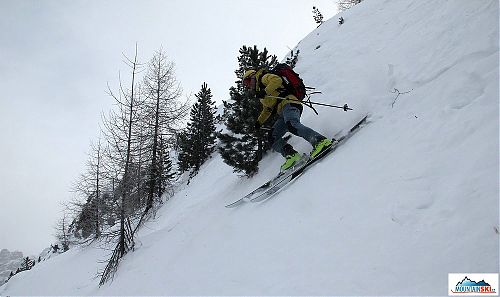 A colleague on skis Dynafit Cho Oyu in a little steep terrain (Click to enlarge)

We are down in the valley at Pederü before 11 a.m. (Click to enlarge)
Zvětšit mapu
Zvětšit mapu