I have participated at Excellent Dynafit Press Event in Italian Dolomites in January 2013 that was located at Rifugio Fanes (2060 m). The goal of the first ski-touring testing trip of all the participantes was Monte Castello up to 2800 m on Friday, January 11.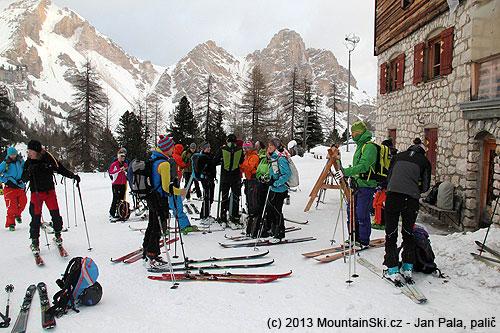 It is almost 9 a.m., when we are almost ready for the beginning of the trip – Rifugio Fanes at 2060 m
The version of this trip by Lou Dawson: Monte Castello History Tour from Fanes Hut — Italy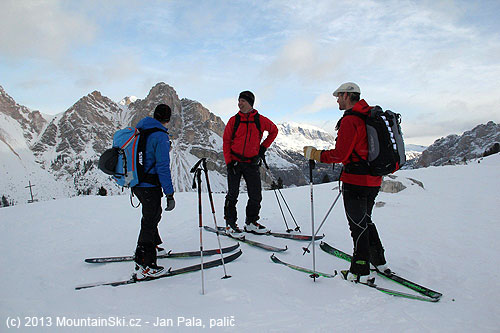 The first group in pass Limo – altitude 2172 m
We met in the front of the hut at 8.45 a.m. and we divided into two groups. The majority of the participants had greater interest to go through the places historically significant due to the many remains of fighting during World War 1st in between Austria and Italy. Under the leadership of mountains guides Franz Perchtold and Gabo Adamec we quickly climbed into the saddle Limo (2172 m). We skied down a few tens of altitude metersalong the lake with the same name Le de Limo (2159 m) and continued down the valley.

On the way to Monte Castello – small rock above the middle skialpinist
We climbed to the valley with a significant angular rock face towering above the snow slopes – the peak of Monte Castello. At the foot of the rock face there is bivouac **Bivaco dela Pause (2780 m) ** – bivouac of freedom that is our goal for today. There is stronger and stronger wind with reaching higher altitudes and the wind is unpleseantly strong above 2600 meters. Thereby we spent some time for a short relaxation in the bivouac.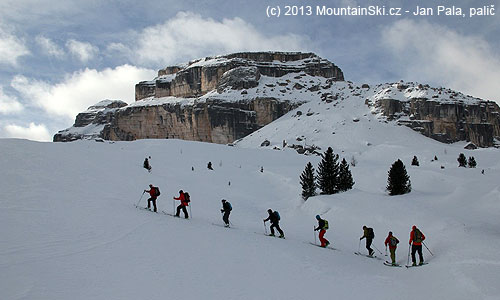 A typical winter landscape in the Dolomites
We followed with a downhill straight down after a rest. It was somewhat challenging due to wind and breakage slope in the upper part, but below it was a great skiing. More or less together, we arrived at the bottom of the valley, where we applied skins to our skis again. We were the first group bursts in the pass Limo, and we were waiting for most of the others, but not for all of them.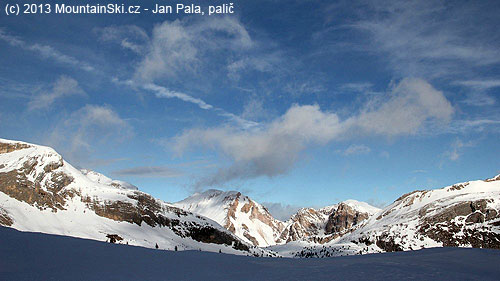 Clear sky and strong wind
Čeněk and I skied down directly from the pass with one guy and two girls from Dynafit. There is a short part in the upper part, where the angle of the slope can reach 60 deg, whereas the rest of the slope is up to 35 deg.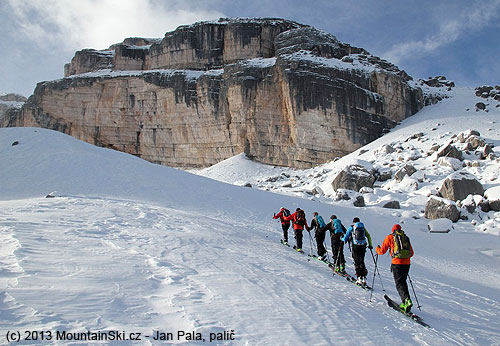 A group under the leadership of mountain guide Franz Perchtold climbed towards Monte Castello
The snow conditions were far away from the ideal powder snow in the upper part from Monte Castello, the whole trip was simply excellent and safe even when there can be higher avalanche danger.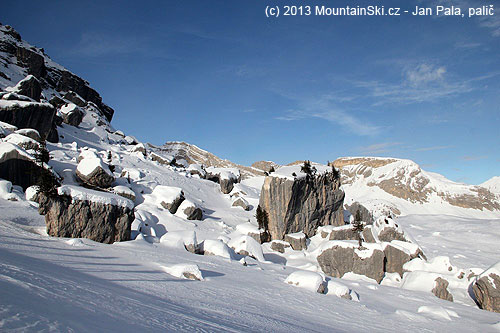 Snow was taken away by wind – a group of shadows just passed stones and rocks, that are usually mostly covered by snow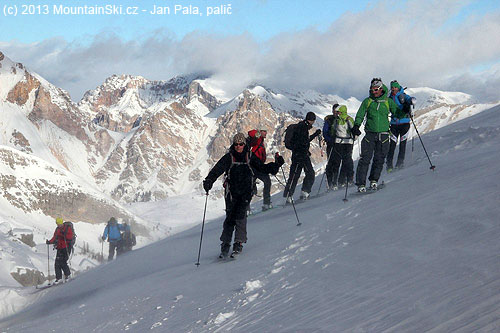 Lisa Dawson in a strong wind on packed snow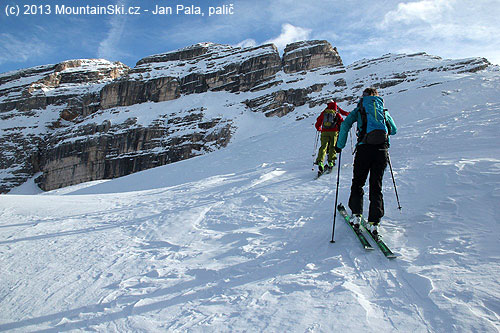 Packed snow improved fun during the uphill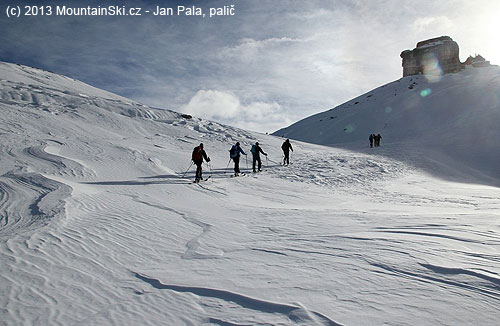 There remains a short way on skis, the rest will be on feet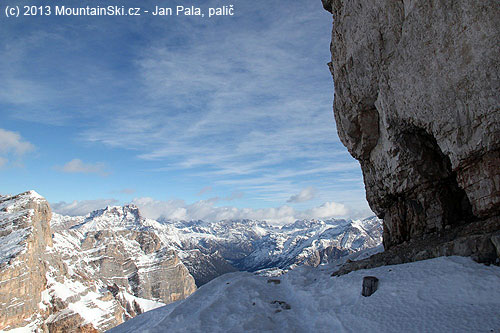 A view from a small plateau in the front of the bivouac – altitude 2780 m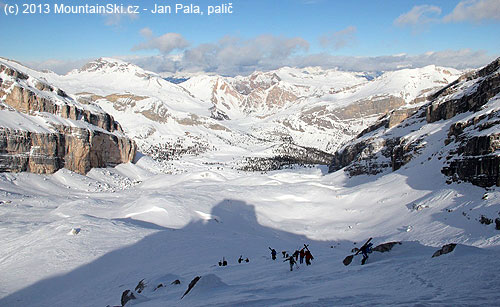 Next group is reaching the bivouac, the shadow in the middle is from the rock face above the bivouac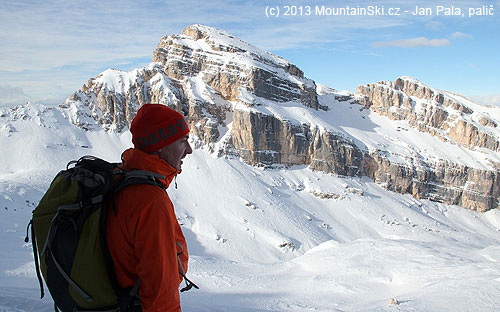 In the front of the bivouac

There was a really great advantage of the bivouac – no wind inside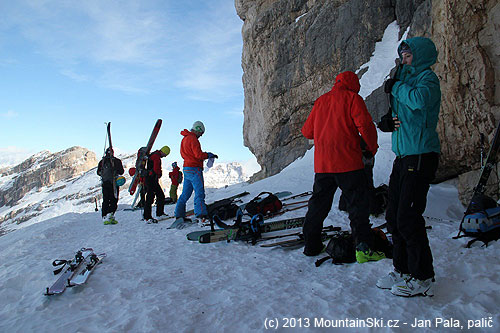 Backpacks down and skins off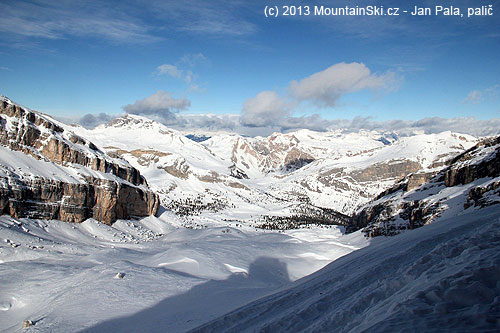 Dolomites – simple fantasy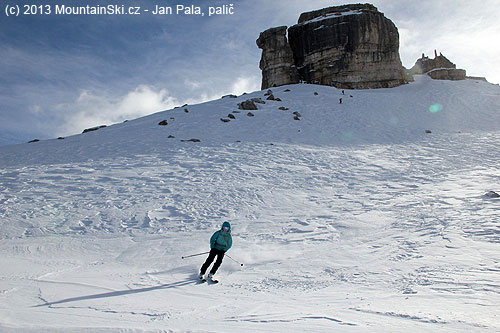 The worst part of the skiing is just over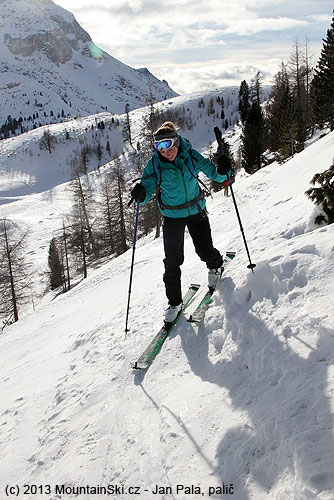 Alexandra in the traverse to pass Limo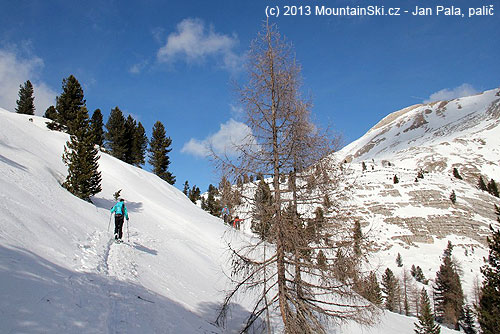 Alexandra in the traverse to pass Limo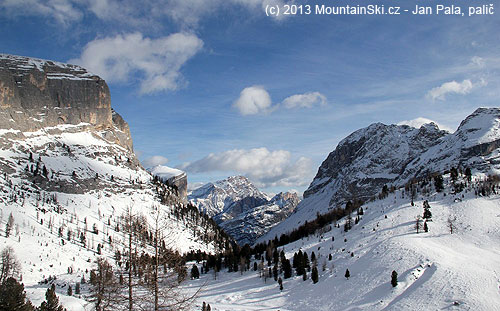 The Dolomites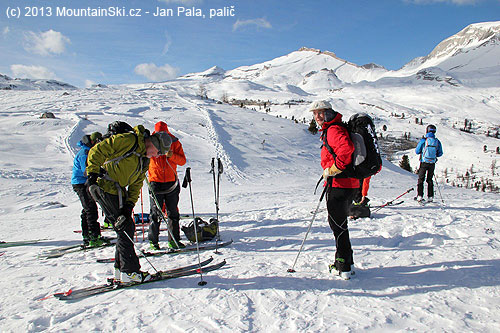 Back in the passe Limo – on the right Franz, on the left Lou taking off skis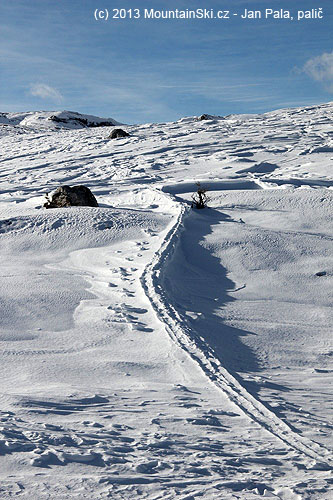 Lost skialpinist – the wind moved away all the newer snow around the route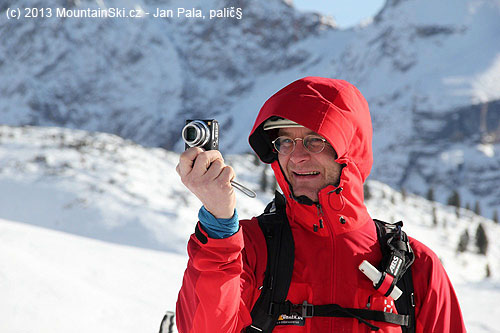 Mountain guide Franz Perchtold as a photographer

We skied down with a guy and two girls from Dynafit, Rifugio Fanes is just below us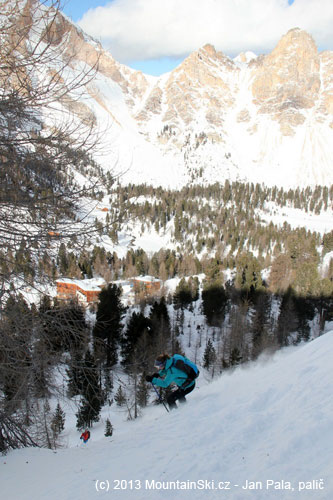 Alexandara finished one of the several needed jump/pedal turns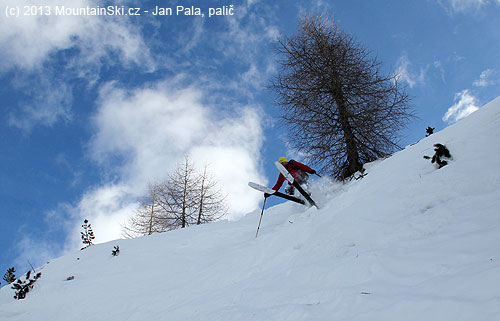 Čeněk during the precisely done jump/pedal turn in a steep terain – skis Dynafit Nanga Parbat in the action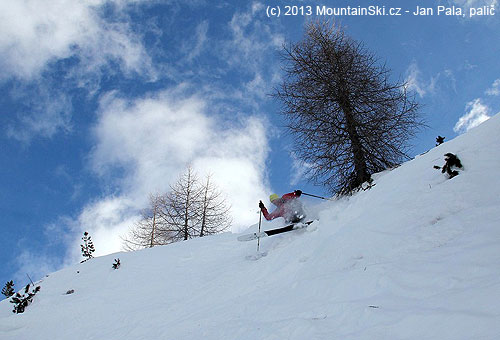 Čeněk is skiing down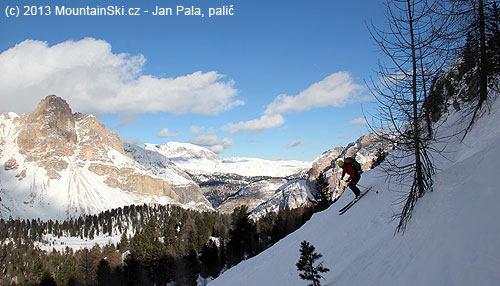 Two jump/pedal turns were enough to get to more gentle slope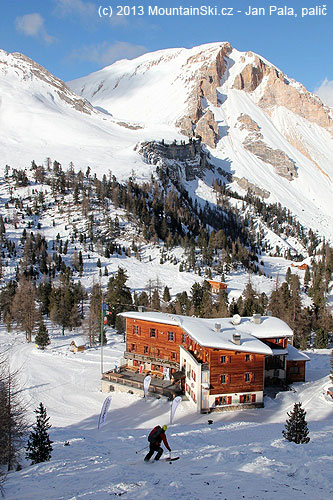 The final part to Rifugio Fanes
Zvětšit mapu
Zvětšit mapu