On our skialpinism and snb trip to Iran (Skialpinism and snowboarding in Iran in April 2010 – list or results) we started in the area of Tochal (Trekking aclimatization to Tochal during skialpinism and snowboarding trip to Iran in April 2010) and followed to the area of the second highest Iranian peak Alam Kooh (4850 m). We were the first foreigners in 2010 there. Trip was supported by KAMA and Tilak.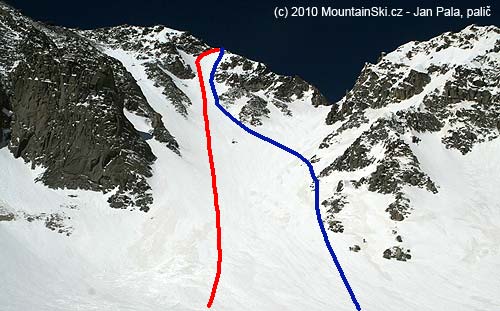 Ascent to Takhte Soleyman is in blue, downhill in red
Text will be translated soon, up now, only description of photos in English
V Teheránu mě čekalo to, o co jsem zájem nějak neměl – řízení auta v íránském nezřízeném provozu. Vyfasoval jsem Peugeot 405 a čtyři lidi do auta, zatímco Reza bral zavazadla, lyže, snowboardy a naše dva výletníky. Doprava v Teheránu je více než šílená a po pěti minutách jsem se už těšil na dálnici D1 a prý jako že ucpaný střed Prahy v dopravní špičce. To by byla idyla!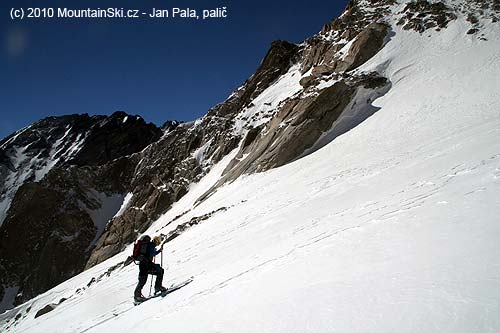 Aljona steaming to the hill, there is Alam Kooh behind the corner in background
Teherán jsem jako řidič přežil, stejně tak cestu po horské silnici, kde se v tunelech do zatáčky na dvojité čáře vesele předjíždějí náklaďáky. Do města Rudbarak jsme dojeli po poledni, zašli na oběd a ubytovali se v hostelu IMF (Iranian Mountaineering Federation). Prošli jsme město, nakoupili jídlo a vrátili se na místo ubytování.

Aljona skiing from pass below Takhte Soleyman
Ráno nás čekalo auto, které nás dovezlo kousek na Vandarbun, kde jsme nahodili bágly s vercajkem, Jana s Aljonou odložily dlouhé kalhoty a mohli jsme vyrazit. Z výšky asi 2300 metrů jsem celkem dlouho šmatlali pěšky po většinou pěkné pěšině až k začátku stoupavého sněhu ve výšce asi 3200 metrů (cestou dolů jsme potom na lyžích sjeli asi do 2900 m).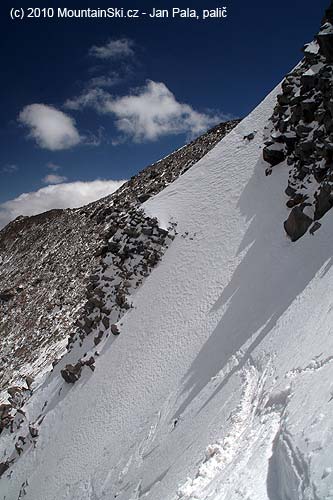 Skiing began with a short traverse, the slope is quite steep, nothing for beginners
Zbytek výstupu ke kamenné chatě/bivaku Sarchal (3700 m) byl pohodový. První trojice už dávno popoběhla a věci nechala na chatě. V době našeho příchodu na chatu už stoupali na Siah Guk Round (4500 m). Dva došli až nahoru, Mišo na sněžnicích to zabalil o něco níže. Následně dojeli v pořádku k chajdě.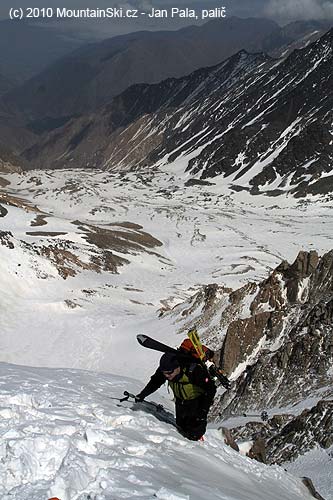 Adam reaches the pass below Takhte Soleyman
Další den (16. 4.) nás čekal výlet na druhý nejvyšší kopec Takhte Soleyman (4659 m). Útočná dvojice Žrout a Martin po zanechání lyží v sedle asi 4550 metrů vysoko pokrčačovala dále s cepínem a mačkami na hlavní vrchol. Ostatním stačilo dosažení sedla, z něhož následoval parádní sjezd. V horní části sklon přesahoval 50 stupňů. Sjezd neměl chybu.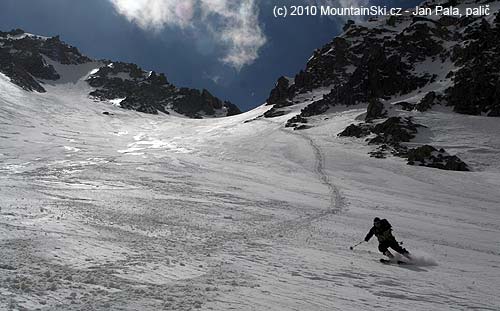 Adam is skiing
Čtveřice vyrazila ještě na Mian Sechal (4348 m). Aljona to zabalila pod vrcholovým svahem, ostatní dosáhli vrcholu (místy poněkud více lezecké než se zdálo) a v pohodě sjeli dolů.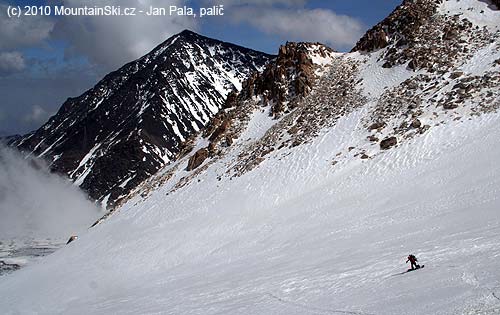 Jana in a long snowboard turn
17. dubna jsme se kvůli špatné předpovědi počasí na následující dny dekovali dolů. Předtím jsme ale stihli Siah Guk Round-top (4446 m) a Siah Guk North (4505 m), někteří dali oba kopce, jiným stačil jeden sjezd v rozměklém sněhu.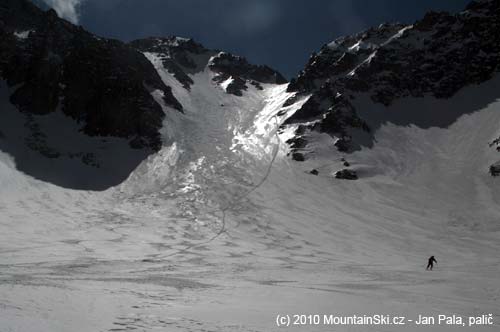 We´ve just finished nice downhill
Dojeli jsme k chajdě, sbalili saky paky a kolem čtvrté odpoledne se rozjeli dolů. Konec sněhu byl asi 2900 metrů vysoko, a od něj se rychle pokračovalo až kousek na Vadarbun, kde pro nás přijelo v sedm hodin večer auto. Bořík nás svezl do Rudbaraku, kde jsme přespali a zrelaxovali na přesun pod Damavánd (5671 m).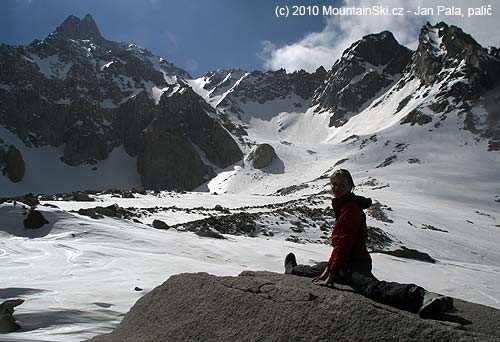 It is necessary to do some stretching after downhill

Snow is going down…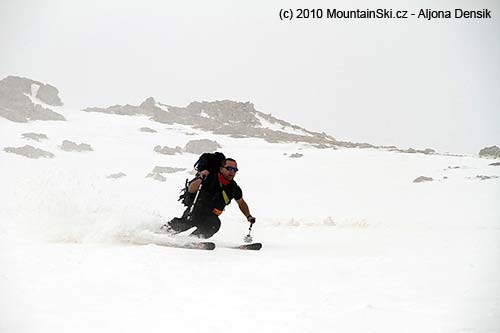 I am skiing down, snow is wet and heavy

This Musli bar travelled from Czech Republic to Kamchatka, then to Moscow, from Moscow to Teheran and finally near Alam Kooh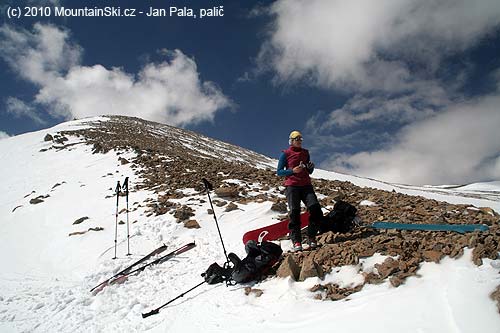 Relax near the summit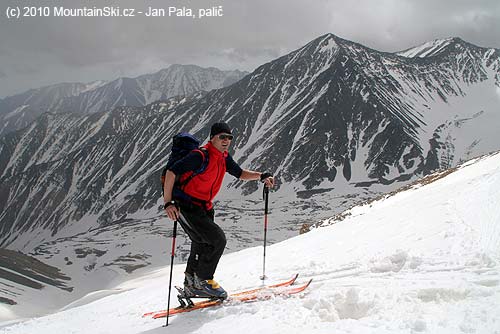 Žrout is on the ridge for the second time in the same day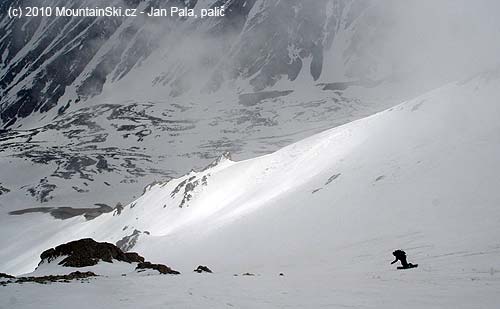 Miso is snowboarding

Miso in lower part od downhill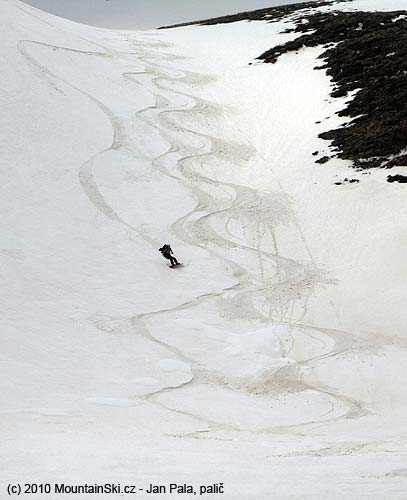 Right trace is mine, middle by Miso and Jana is just coming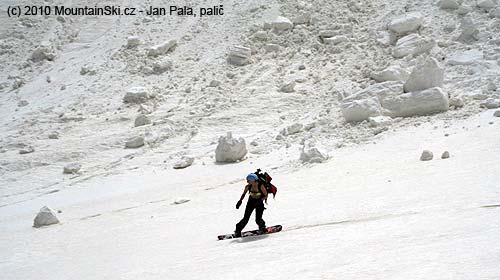 Cornice fell down near Sarchal hut