We returned from Iran on Monday morning, April 26, 2010. We spent marvelous two weeks with skis and snowboards in Iranian mountains and historical cities as Esfahan and Kashan. Original plans were adapted to the weather that actally wasn´t ideal every day. We skied from several 4000 meter high peaks, and Žrout, Martin and Mišo snowboarder climbed to the summit of Damavand (5671 m). Followingly they skied and snowboarded down from about 5470 meters. We made a short swimming break in Caspian sea. We have also found out that several glaciers living in 2004 are gone (Iran skiing 2004). Sulfuric hot springs were excellent too. In my point of view, whole trip was nice, but participants might have different opinion. The trip was supported by KAMA and Tilak.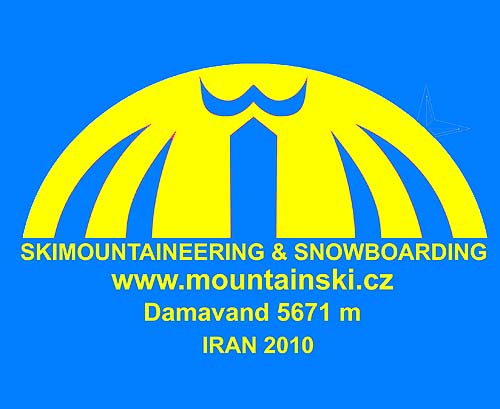 Logo Iran skiing and snowboarding 2010
Participants:
Jan Pala (skialp, Klecany, Jablůnka) – leader
Aljona Densik (skialp, Petropavlovsk-Kamchtskij, Rusisa)
Adam Daněk (skialp, Praha)
Michal Sventek (snowboard, Žilina, Slovakia)
Jana Dostalová (snowboard, Brno)
Martin Čadík (skialp, Pardubice)
Petr Novák (skialp, Vysoké Mýto)
Realized time schedule:
1–2 day – trekking to Tochal with climbing from 1600 m up to 3982 m (overnight at 2750 m) and followingly walking down almost 2500 altitude meters to the valley
3–6 day – area of Alam Kouh with downhills from many 4000 m peaks, daily over 1000 altitude meters
7 day – swimming in Caspian sea and transport to Reineh, swimming only Martin and palič
8 day – bad weather; Reineh, Lasem, hot springs
9–11 day – Damavánd, three guys on the summit (Martin and Žrout with skis, Mišo with snb, there was no snow in the highest part, so skis and snb remained at approximately 5400 m), the others finished in between 4600 and 5000 m because of strong wind – 35 m/s
12 day – ascent in the region of Lasem and downhill back to the village, transfer to Teheran
13–14 day – historical cities Esfahan and Kashan
14 day – afternoon – Teheran, dinner late in the night and after midnight transport to the airport
15 day – somebody damaged airplane in Moscow, so we had to wait 2–2.5 hours for another airplane
There will be more information and photos for each stage of our trip to Iran soon…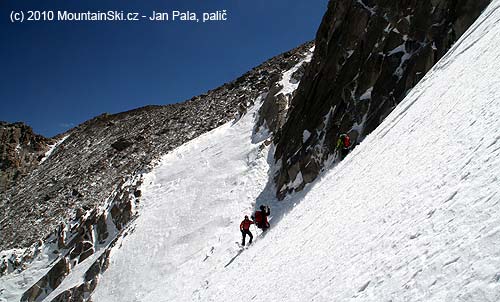 Upper part of downhill fromTakht-e-Soleiman – 4659 m

Let's go, what are you waiting for?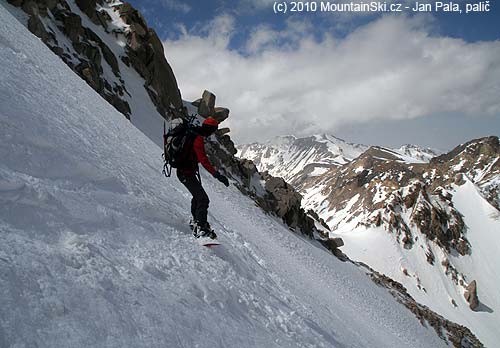 Snowboarding from Takht-e-Soleiman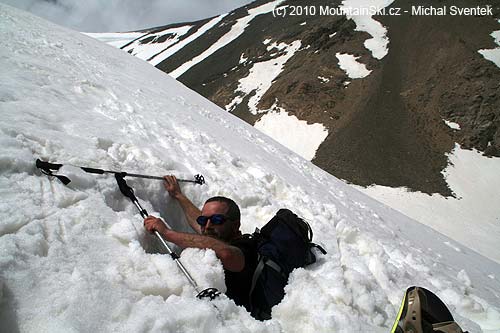 Returning to hut is sometimes quite dangerous, digging was catch by backpack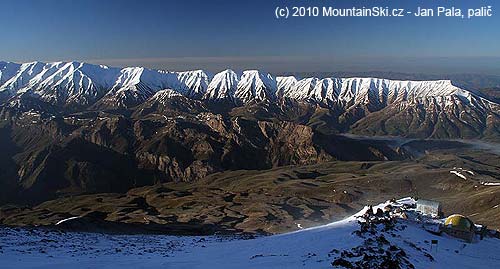 Views from slopes of Damavand from altitude 4200 m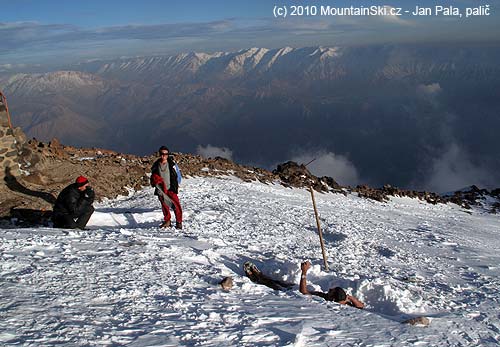 Morning bath in snow – Žrout is in feather jacket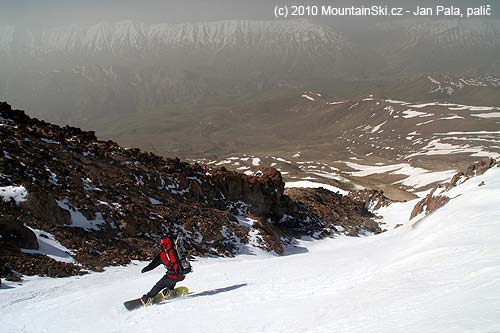 Mišo going down the hill from 4200 m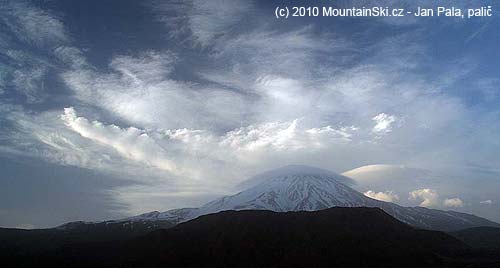 Clouds around the summit of Damavand – 5671 m