First two days in Iran (Skialpinism and snowboarding in Iran in April 2010 – list or results) we spent with acclimatisation on Tochal (3982 m). We got little below Square of Mountaineers and started walking from the altitude approximately 1650 m. We walked through the narrow river valley surrounded by many restaurants, as this is the party area of Teheran. It is hard to imagine, how it looks here during floods. Trip was supported by KAMA and Tilak.

Statue of mountaineer Amir Shah Quadami at Sarband square
There was a lot of restaurants for several hundreds altitude meters. We continued to big Shirpala chalet of Iranian Mountaineering Federation at altitude 2750 m. Weather was marvellous, so we were sunbathing by the chalet for some time. There were also great views to night Teheran with more than 1000 meter altitude difference.

Aljona is climbing to Shirpala chalet
Weather became worse overnight, and it was raining at Shirpala on Tuesday morning. Reza went to fifth station of gondola, whereas the rest seven people decided to continue to the summit as far as the weather is acceptable. Weather became better – rain went over and snowfall with strong wind and heavy fog came instead. Eventually we reached bivouac at the summit of Tochal (3982 m).

There were nice waterfalls in the lower part of ascent
We started descending through Tochal ski resort after a short refreshment in the bivouac. Ski lifts were closed and only gondola from station 5 to first station worked. Two of our group wanted to go by gondola, but the others succeded to push them for walking down on foot. Finally, we reached our car at the altitude approximately 1650 m. Just to sum up, ascent almost +1350 m, descent –2450 m in one day.

Fantastic geological layers in surrounding peaks and slopes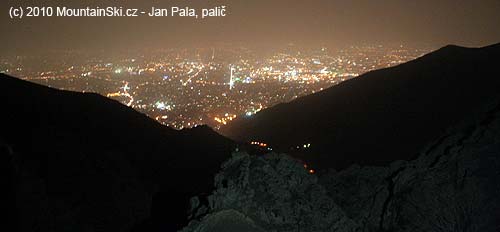 View to night Teheran from 2750 m

At the altitude approximately 3300 m during ascent to Tochal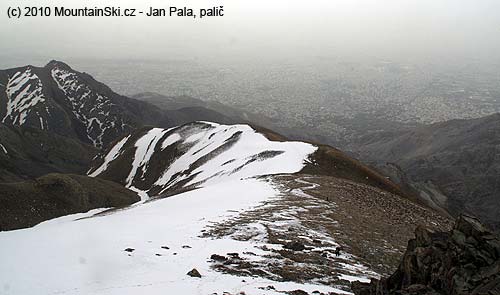 There is 16 milion Teheran in gray background – photo taken from bivouac at 3300 m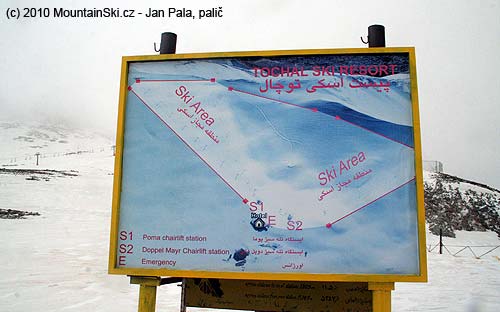 Scheme of ski slopes and ski lifts of ski resort Tochal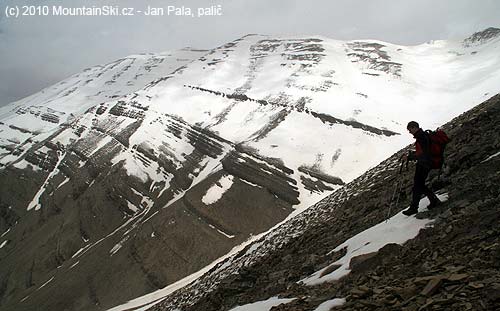 Descent from the highest station of gondola offered beautiful views on near peaks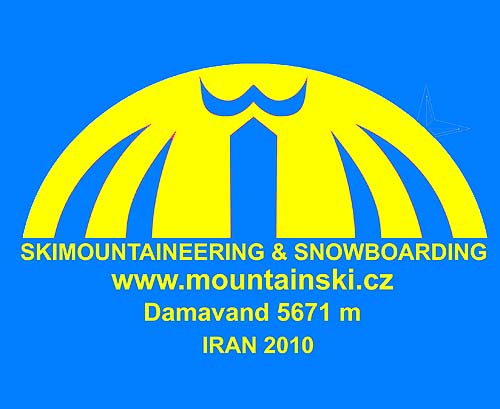 Logo Iran skiing and snowboarding 2010