There occured discussion about Avalanche Ball at Czech forum Outdoorforum. Avalanche Ball is suitable for faster obtaining first contact with the area of person buried by snow avalanche. Some people in this discussion suppose that Avalanche Ball is equipment of the same value and practical usage as ABS Avalanche Airbag System or Snow Pulse, it is convenient to look more in detaile, what Avalanche Ball is, what's its advantages, disadvantages and way of usage.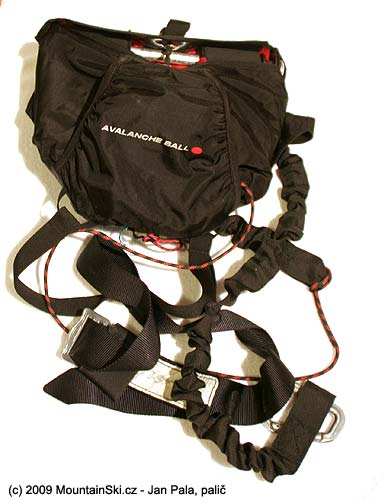 Avalanche Ball prepared for usage
The red balloon is clearly visible, searching time is dramatically reduced.
Precise location of buried avalanche victims within seconds.
No electronical devices or specialized knowledge necessary.
Locate, recover and save – with the AVALANCHE BALL.
In case of more buried avalanche victims, the AVALANCHE BALL is a "visible advantage"!

Belt to fix Avalanche Ball around waist
Quite long time ago there were several articles and discussions on Avalanche Ball on Czech climbing server – in 2004 Avalanche Ball was described in article Lavinovej balón – lezec.cz. Almost at the end of discussion to article about avalanches at Lezec.cz there were mentioned different experience with Avalanche ball? – lezec.cz in 2005.

End of 6 m long cord of Avalanche Ball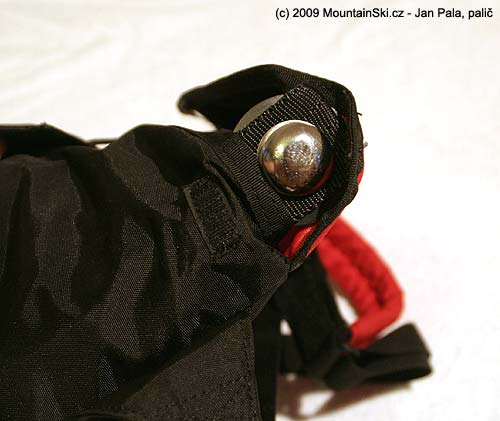 Main joint of Avalanche Ball
Martin Kern, et al. (SLF Davos) presents in his work "Field tests of some new avalanche rescue devices" (2001) after practical tests of dummies with Avalanche Ball in avalanches:
The K2 "Avalanche Ball" does not reduce the depth of burial. In the tests it facilitated rapid visual location of the dummies.
Based on the results obtained the K2-"Avalanche Ball" does not represent a significant advancement in the area of avalanche safety equipment.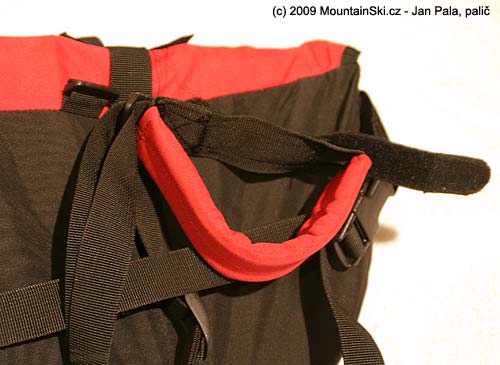 Release belt of Avalanche Ball
Czech avalanche expert Viktor Kořízek present important statement on his webpage LAVINY – INFO BASIC:
"ABS AVALANCHE AIRBAG AND AVALANCHE BALL IS WITHOUT AVALANCHE TRANSCEIVER, SHOWEL AND PROBE JUST FOR NOTHING!" – probably, there could be mentioned Avalung and Recco too.

Detail of hook of Avalanche Ball
Avalanche Ball in Namche is available for the price 5900 CZK there. Comparison of complexity of device and its practical usage in comparison with avalanche transceiver, which starts at lower prices, can be done by everybody. Maybe, it has sense to buy Avalanche Ball in "SALES from 5900 to 1500 CZK, resp. as second hand for 1200 CZK.

Velcro fixing of hook
There started discussion about Avalanche Ball – tests at Telemark Talk Forum in 2009, just to show some of ideas discussed:
Toby: "Nothing really new, but I never saw anybody carrying this in real life."
Juanbendeknee : "Like an ABS pack, but instead of attaching it to yourself you get a leash to get caught around trees."
Hacksaw: "The Avalanche Ball is not full proof and should not be the only means of finding someon. Obviously, the ball should be used in conjunction with a transceiver. Just as you should have a transceiver even if you use an ABS pack, Snowpulse or Avalung." (… Samozřejmě, balon by měl být používán pouze jako doplněk lavinového vyhledávače. Stejně jako by měl mít každý lavinový vyhledávač, i když používá ABS batoh, Snowpulse nebo Avalung)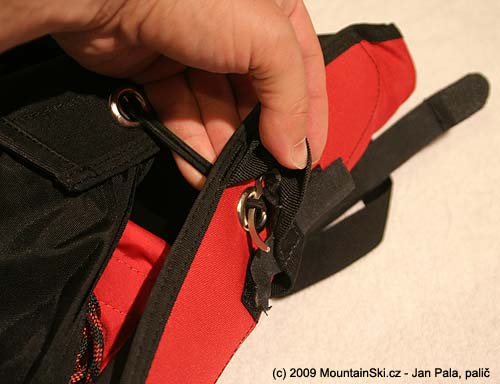 Aktivační pojistka Avalanche Ball
Na Teton Gravity je vlákno nazvané An avalanche Ball is better then a transceiver? stojí za pozornost například:
backcountry1pr: "I do not believe that you could just "pull" the cord up to find your victim. In all the slides I have been a part of, if the cord was longer then like 10ft, the time you would waste trying to follow 20ft of cord through a set up avy path would negate any immediate time savings." (Nevěřím tomu, že je možné jen >vytáhnout< lano k nalezení oběti. Ve všech lavinách, jichž jsem se nějakým způsobem zúčastnil, pokud lanko bylo delší než 3 metry, čas, který musíte strávit sledováním 6 metrů dlouhého lanka po lavinové dráze odstraní všechny okamžité časové výhody)
mb2778: "what about risk of strangulation?" (a co nebezpečí uškrcení?)

Lanko držící u sebe Avalanche Ball a jeho obal
Short 92 seconds long video from Warren Miller's film 1962 Backcountry Skiing shows "ball skiing" in French offpiste, releasing small avalanches, etc.

Avalanche Ball in its nice red beauty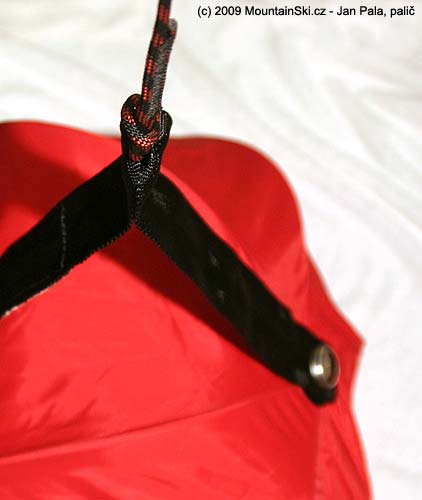 Connection of Avalanche Ball with 6 m long rope
Avalanche Ball at Pistehors.com, kde je uvedeno "The biggest disadvantage is that the ball may come to rest on the surface some meters away from the victim. However the connecting cord is thin and light and will cut through compact snow so the cord can be pulled tight until the search is directly above the victim. It is important to remember that, unlike the ABS Airbag system the ball will not aid floatation so you still need a buddy to rescue you."

Closing part of Avalanche Ball
Short conclusions about Avalanche Ball:
+ speed up first visual contact with place, where buried person can be caught by snow avalanche in circle 6 m around, when coindience are augural (if Avalanche Ball remains connected with its body, and it is not wrenched off)
+ using avalanche transceiver and Avalanche Ball spee up generally time to find buried person, usage for freeride, heliskiing, etc.
+ simple mechanical construction and usage without external devices (battery, ABS cartrige, etc.)
 – weight
 – high price
 – Avalanche Ball is not comparable with ABS Avalanche Airbag System or Snowpulse, because Avalanche Ball only shows place, where buried person is with some probability, whereas ABS or Snowpulse keep person on surface of avalanche with the highest probability
 – Avalanche Ball need personal activation as ABS, Snowpulse and Avalung, so this can be trouble with big and fast slides and due to stress of human
 – bad fixing to body – belt, that should be fasten around waist, remains freely on backpack – this was seen in practice
 – behaviour of Avalanche Ball and connecting rope in case of avalanche in forest terraing – possibility to be caughted by trees, strangulation and pressing by snow, etc. – this is not tested in practice!
GENERALLY: Avalanche Ball is expensive, heavy and only partially usable in practice, so that it is only above standard accessory in the field of avalanche safety – basic ones are avalanche transceiver, showel and probe. It is inconvienent to use it in forrest terrain.

Starting to assembly Avalanche Ball
Links to other reading:
Předvedení lavinového ABS batohu na Sport Life v Brně
Lavinový Life Bag – lepší než ABS batoh?
The impact of avalanche rescue devices on survival (Brugger, 2007)
Flash Avalanche – VISUAL SYSTEM OF THE SEARCH OF AVALANCHE VICTIMS
Comment on Flash Avalanche

Central part of Avalanche Ball with cords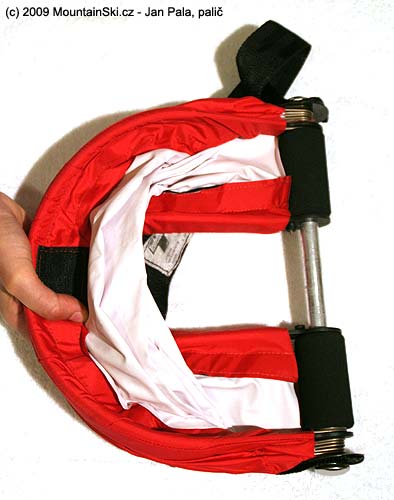 Fully opened Avalnanche Bal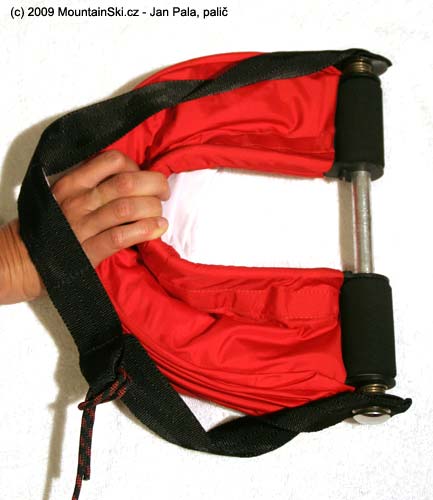 Opened Avalanche Ball with connecting rope
Packing of Avalanche Ball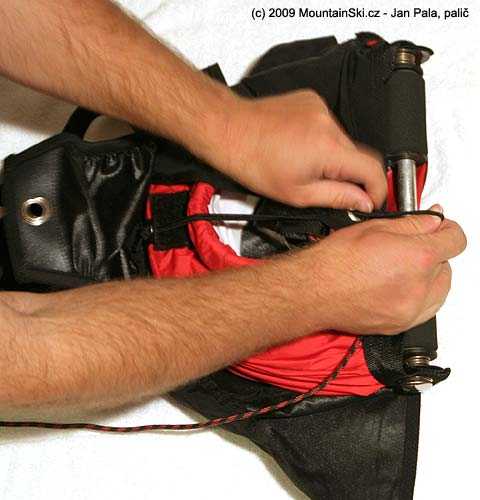 Packing of Avalanche Ball – step 1, left part of case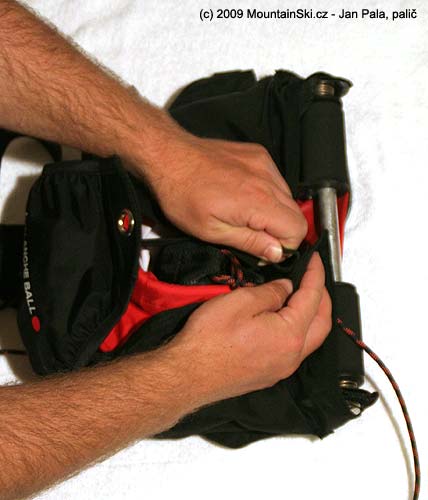 Packing of Avalanche Ball – step 2, right part of case

Going through ring on right part of case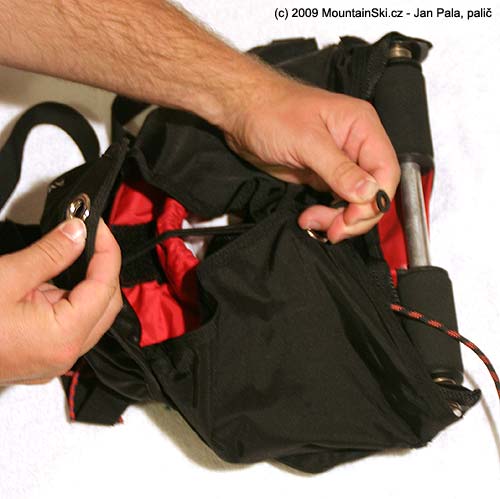 Packing of Avalanche Ball – step 3, central part of case

Packing of Avalanche Ball – step 4, top part of case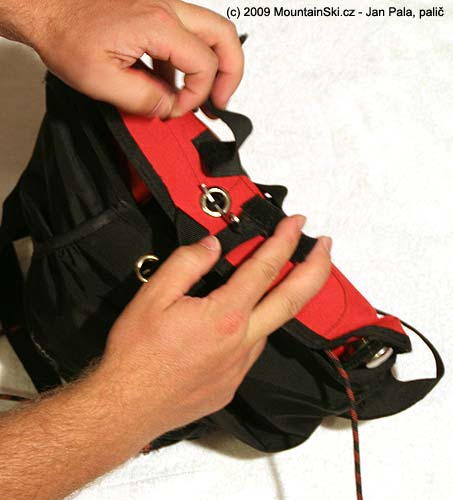 Packing of Avalanche Ball – step 5, hook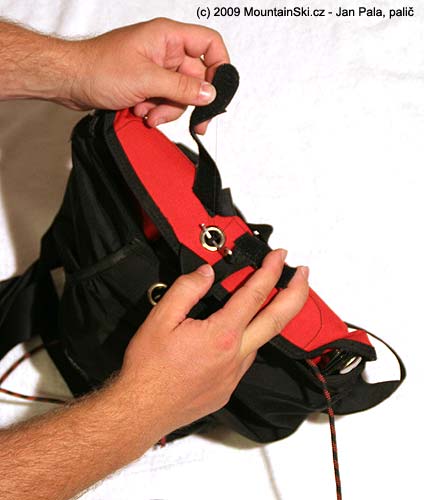 Covering of hook of Avalanche Ball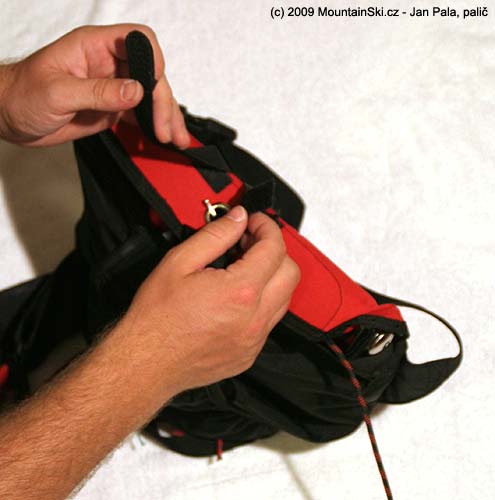 PCovering of hook of Avalanche Ball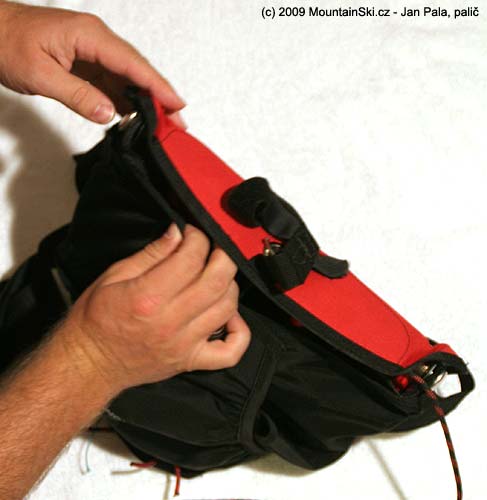 Fixing of case of Avalanche Ball