I was looking for hard boots for skimountaneering, freeride and jumps last year. After some time of searching I have found Scarpa Spirit 4. I have no experience with other types of boots, so that following text is only my personal experience with Scarpa Spirit 4.

Scarpa Spirit 4 in action
Producer describes Spirit 4 like unique connection of freeride boot with classical skimountaineering boot. In my opinion, this statement is right. System of 4 buckles works perfectly, shoes are comfortable for walking and they are also nicely hard during downhill. Scarpa call it as Heel Retention System, when one buckle fixes ankle and heel. I have no problem with frayed heel or movements of feet. It is also OK to tighten boot very hard without exsanguinations of foot.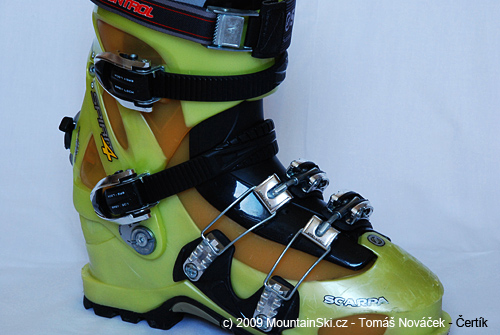 Detail of buckles
There are available two flaps, black (for downhill, made from one piece of plastic) and green (for easy walking, made from two pieces). It is hard to walk with black one, but it is much better to ride in confrontation with green. The green one is too soft. But you buy Booster strap, which is standard with freeride models of Scarpa's freeride models and replace with it classic strap. Then the boot is stiffer.

Booster on the left, standard strap on the right
You can change boot's angle to front and back, and also to sides. I have quite straight legs, so I'm not using side angles, and I have maximum angle to front.

Ski-Walk mecanism, others settings
The inner boot is great, fits perfectly and it can breathe a little. When the temperature is around –10 Celsius and less, I have pieces of ice between inner boot and shell.

Scarpa Spirit 4
Shoe sole has adhesion on each type of surface, but it's quite soft. I think that's not a serious problem, because walking on hard surface during skimountaineering trips is not usual. It's possible to use Dynafit TLT Tech binding as well, so nobody has to use classic system, which is heavier.

Buckles at Scarpa Spirit 4
Scarpa Spirit 4 is not light boot, but its weight is nearly same as concurrence. One boot weights 1860 gr/27. In same category are Dynafit ZZero4 (1740gr/27,5) or Garmont MegaRide (1725gr/27,5). Official dealers are on www.scarpa.com .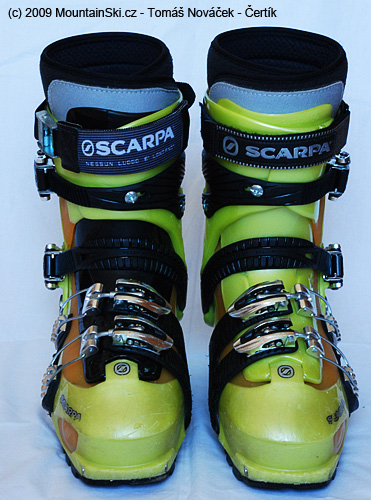 Black flap and Booster on left, green one and classic strap on the right
Small conclusion
Boots will be great for skis with classic width till 85mm. Scarpa has other skimountaneerin­g/freeride model for fat skis, but they were not available last year (I bought these boots in summer 2008).
Foto: 20090826-Scarpa-DSC_0003 – "Booster in detail"

Booster of Scarpa Spirit 4 in detail

Inner side of Scarpa Spirit 4

Scarpa Spirit 4 in action