München ISPO 2009 presented new bindings for alpin tour – Diamir Eagle. This bindigs complete replaces series Diamir Explore. And what about us in this new world will practically ski?
Lou Dawson's intro­duction of new Eagle: WildSnow.com, Eagle Takes Flight — Fritschi First Look.

Similarly as Diamir Freeride Plus is mainly in red, model Diamir Eagle has main color green. Technique certainly deliver improved safety tips throwing shoes at the sliding surface. Similarly, it was for example the old Silvretta where identically release heel. According to producer this is convenient mainly in deep snow, when unsuitable releasing of ski is not acceptable. Obviously, it is seen technical developlment not only in material, but also with the idea how to realized this safety function with keeping long lifetime of this binding.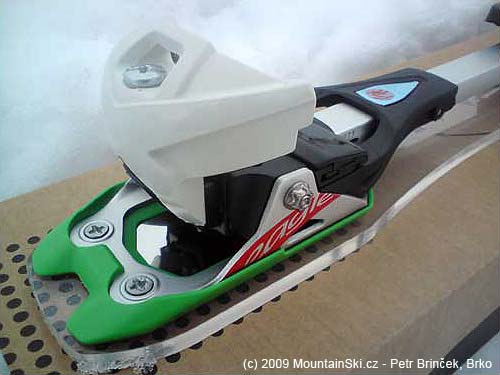 Front rotating hinge of Eagle is redesigned. For a pity, I have seen and play only with samples of this binding, and not use it in practice. So that, I can not say what' advantages and drawback of this solution. The idea is, that the front of shoe is further rear from the hinge axis. Skinning should be more ergonomic with this solution.
Suspended heel of Eagle is similarly as Diamir Freeride Plus guarantee binging also with extreme deflection of ski. Owners of old models of Diamir are surely familiar with releasing of binding when going over ditches and roughness in terrain. Supporting heel is the same as with previous models.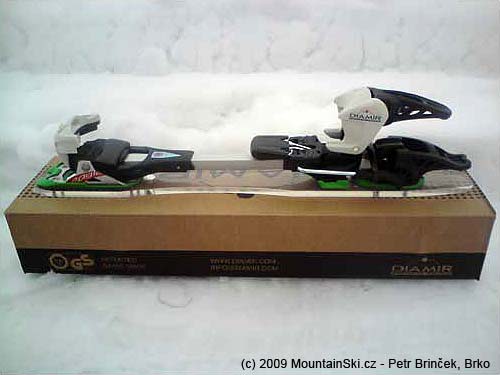 Technical data:
Weight: 1720 g / binding
Height: 39 mm from ski edge
Min. width of ski: >67 mm
Size: SM / ML / XL
DIN: max. 10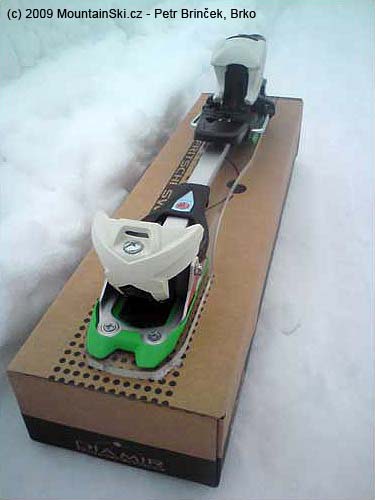 Original article in Czech: http://quill-outdoor.cz/…diamir-eagle
Forum: Fritschi Eagle – sneak preview