We have spent a week from March 19 to March 28, 2010 in different mountain areas of Monte Negro – supported by company KAMA. We skied in Prokletije, Bjelasica, Komovi and Durmitor mountain ranges. We started in restricted group of six people by Multivan in late Friday evening. Weather was not ideal for skialpinism, we had 2.5 sunny days and the rest days were in fog and rain. A lot of avalanches fell down everywhere around us.
After previous trips KAMA SNOW CAMP 2009 Bosna and Hercegovina, KAMA SNOW CAMP 2008 Bulgaria and KAMA SNOW CAMP 2007 Monte Negro we have visited Monte Negro again.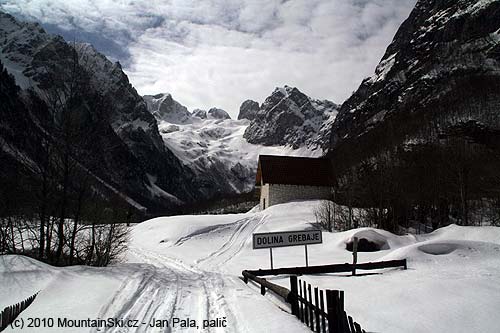 In the middle of Grbaje valley
List of results: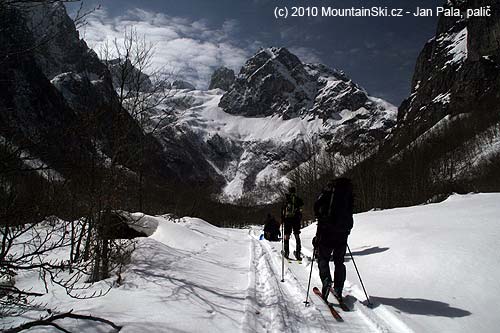 Temperature is increasing, avalanches are falling
Our meeting point was near Vyškov, where our colleaguse from Police nad Metují had arrived with some delay. So, we had time to drink several beers in local pub. Finally, our departure from Brno was about 2 a.m. We had changed our time schedule of visited mountains, so our first stop was Prokletije.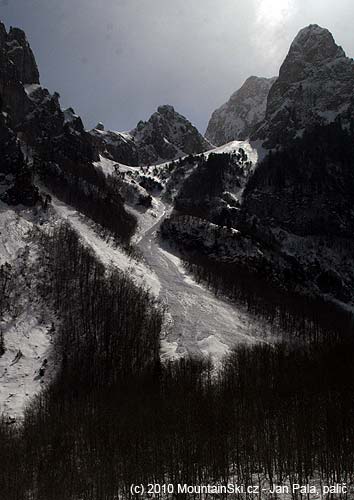 Something fell down several days ago
We arrived to border-city Gusinje on Saturday evening. Our registration enabling entrance to border zone was without any trouble. We took some refreshment as cevapcici and beer Niksicko, so finally we went out of Gusinje to the mountains in late evening. We could continue by car equipped with snow-chains shortly from Gusinje. We took showels to dig a hole for our car next to road. Half of our group fell asleep immediately, and only three of us – Ropak, Jenda and palic – took heavy backpacks for three days and we skinned on skis with skins to Grbaja valley with headlamps around 10.30 p.m.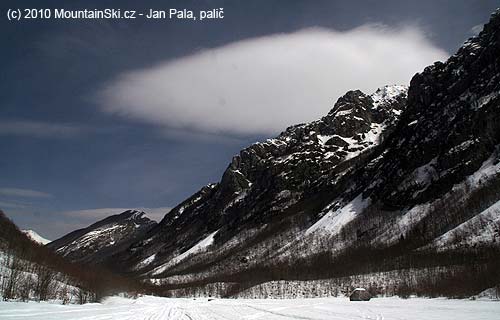 View back to the Grbaja valley
We supposed, that overnight would be in a hut, so we took only sleeping bags with us. Finally, we found the hut, but it was locked and there were no people around (a group of 6 planinars from Serbia had to be in the hut). So, we had to ski down to our car to take tents and groundsheet. We succeeded at 1.30 a.m.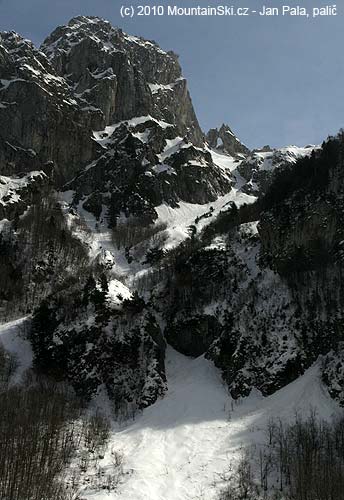 Rock window will be visited next time – too many avalanche below stopped us
There was perfect sunny weather on Sunday, so we skinned through Grbaja valley to its end. There were nice views to peaks and couloirs in Karanfili massif, for a pity, there was a lot of self released avalanches as a result for increased temperature.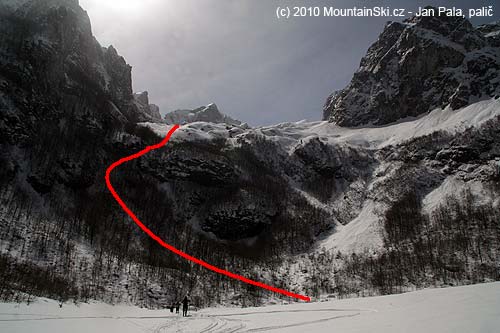 Originally planned route to higher part of the valley, we stopped near traverse due to high avalanche danger
As a case of avalanche danger we wanted to climb through left part of end of the valley through forest and in upper upper continue on gentle slopes to saddles or ridge. Forest ascend was not ideal one, as we were up half of calf in snow on skis, and above knees by feet. Every step caused release of big pieces of snow that fell down. We canceled ascend near first stripe of rocks due high avalanche danger and returned back to valley. Skiing was improved by a lot of falls.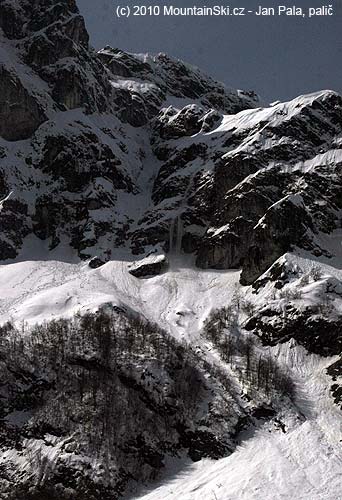 One of small self released avalanches
After short refreshment in the valley we continued down. Another ascend was chosen in lower part of the valley to side ridge. Beginning was on forest road that changed in upper part in steep ascend in the forest. There were beautiful panoramatic views from the ridge, both on city Plav and lake Plavsko jezero. Finally, we finished on the ridge between Vezirova brada (1780 m) and Podgoje (2190 m).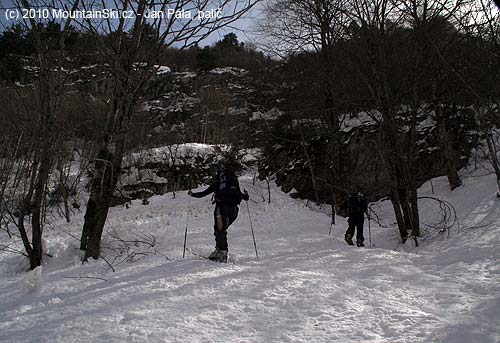 Climbing on hard wet snow through forest
Skiing was perfect from the beginning, we continued through rocks in lower part, where several traverses and jump were necessary. Rest of downhill to higher hut was in nice forest. We continued shortly through forest below hut. Final part was on the forest road.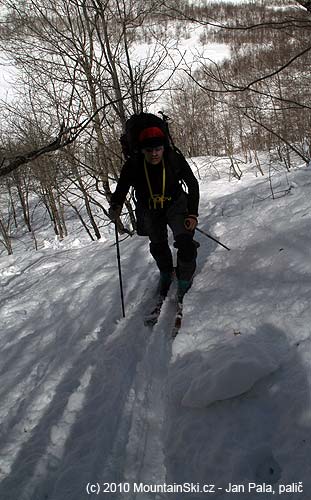 Still ascending, but it is little danger
We have ascend to massif Volušnica and peak Papadija (2056 m) for Monday.
CONTINUE AS SOON AS POSSIBLE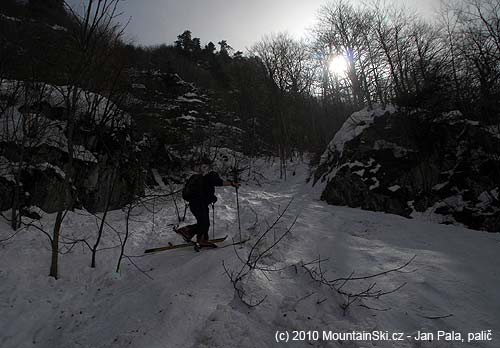 We continued on skis through narrow part between rocks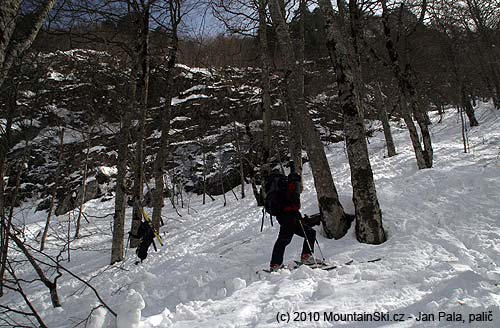 Canceling ascend, some of us descend on skis, some by walking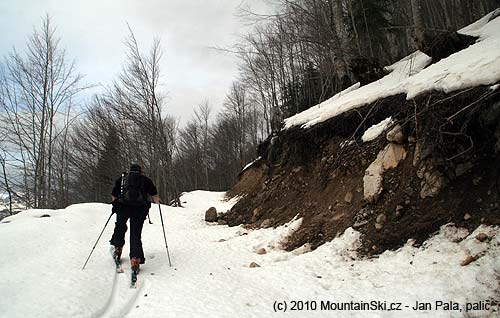 Other ascend started on forest road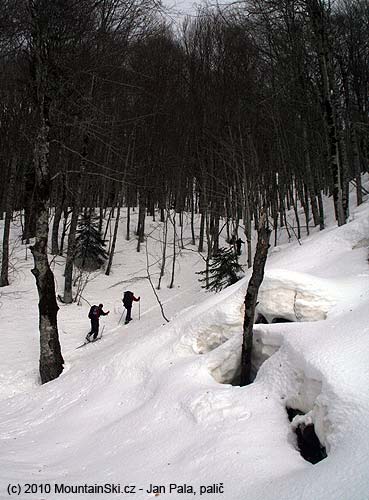 The end of road, we started to climb in forest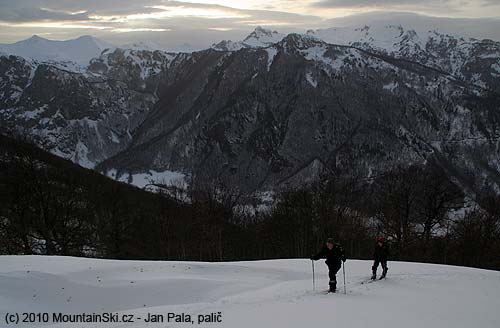 We are almost at the summit, left on background our summit for next day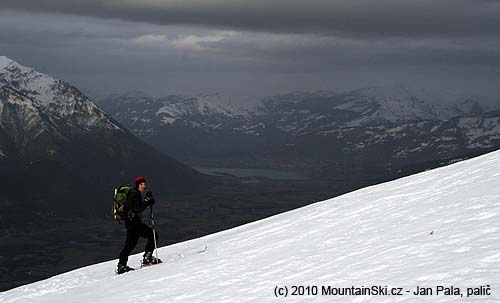 Down in the valley Plavsko jezero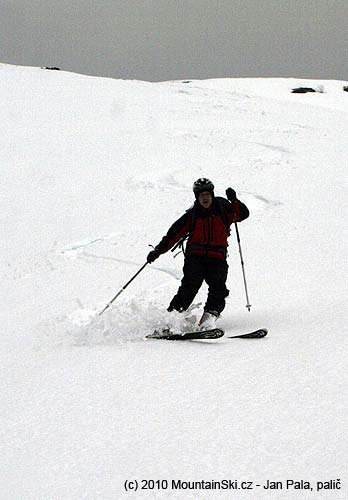 Ruda skiing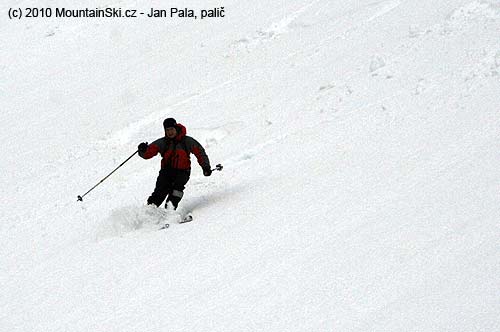 Ropák near Rudy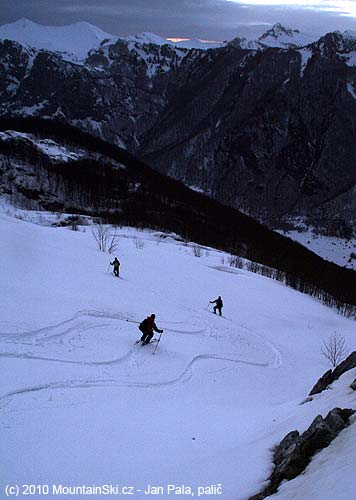 Sunset, rest of downhill was in dark