Company Freeride Map© has been publishing special maps for freeride skiing and snowboarding. The newest map extends number of maps to 15 and it covers Lötschental around summit of Hockenhorn (3293 m). I have possibility to look and check maps during sport trade show ISPO 2010 in München.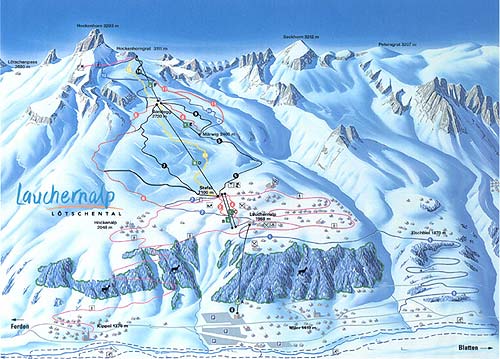 Lötschental – lifts and slopes
Ski resort Lötschental enables going by lift up to Hockenhorngrat (3111 m), where a lot of interesting freeride routes start through terrain of different difficulty. Interactive map of the area for closer introduction is here: Lötschental map and followingly other map Winter Panoramakarte Region Lötschental and full panoramatic map: Sommer Panoramakarte Region Lötschberg.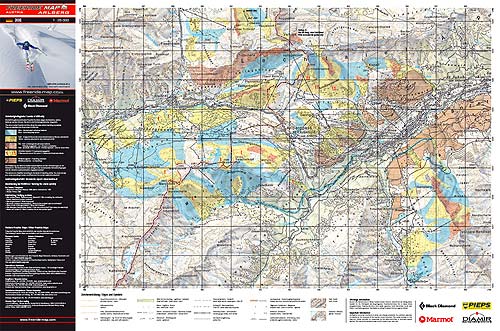 Front side of Freeride Map – for illustration Arlberg
Maps are based on the original maps of the Swiss Federal Office of Topography swisstopo for Switzerland, wherea on the original maps of the Austrian Federal Office of Metrology and Surveying for Austria. Scale of maps is 1:25'000. Maps are printed on water- and snow- proof paper with higher resistivity against mechanical damage. Thus, it is ok, if you put map into your pocket without any case and you take it out during freeride to find out your proper position on following downhill route.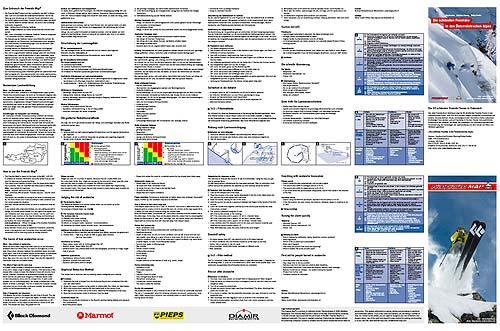 Back side of Freeride Map – for illustration
The Freeride Map contains all essential information about the terrain behind borders of ski resort to plan and go for freeride. Front side includes map sheet with all details for practical freeride – see below. Back side describes all about avalanche prevention and avalanche danger.
Freeride areas are market out by surface according to three levels of difficulty for freeride by differen colours:
Blue – Technically easy terrain
Yellow – Requires advanced to very advanced ability
Red – Extremely difficult terrain. Partially exposed – only for crack riders
Freeride areas are classified according to the levels of freeriding ability. You must choose your route according to snow conditions and the current avalanche situation. For instance, map includes these symbols:
Red arrow with line – Red lines indicate inclines
Exclamation mark – Take special care at this point!
Horizontal crosshatch areas – Wildlife protection – no freeriding!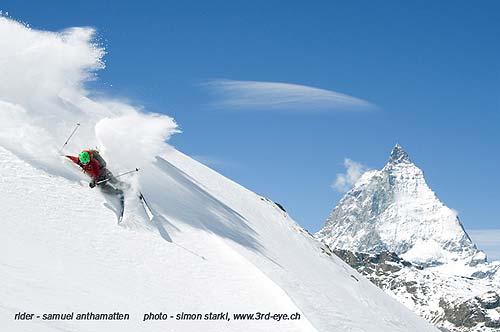 Freeride Map area1
Now, extra news for next winter season! If all work will be properly done during this winter in several ski resorts in Austria, new Freeride Maps will be printed in October 2010. These Austrian ski resorts should be covered: Lech/Zürs, Montafon, Ötztal, Kitzbühel West, Kitzbühel Ost, Stubai, Pitztal, Fieberbrunn a Zillertal.
Price of single map is 19.50 €, or it is possible to buy set of 12 maps for 199.00 €. Maps are highly recommnendable and and there are some consultaions now, if Freeride Maps will be available also in the Czech Republic and Slovakia through internet shop: Průvodce na kopce.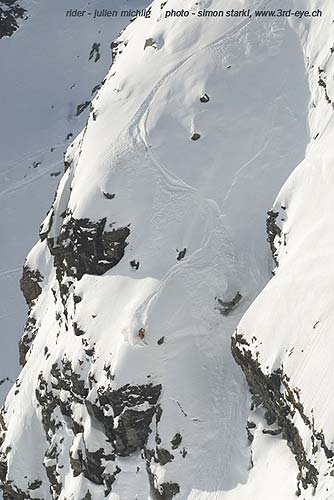 Freeride Map area 2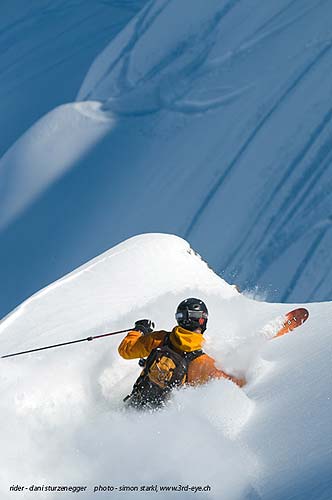 Freeride Map area 3