We waited a long time, but it happened to. At Prague was snowing long time ago, but we in the Beskydy mountain haven't this lucky this year utill now. The last weekend I and Tom (čertík bertík) made some alpine touring, it was quite good except for the fact that it wasn't much snow, and sticks was everywhere. Tomas skis know's aboute that… We are thinking aboute next time, because if this type of winters will continue we will must take to trip a saw and ax.

Chuckie in action
During the week fell another fresh snow and we all went out on Thursday to Pustevny. The weather was beautiful and mysterious powder under cabin from Trojanovice made that date more comfortable.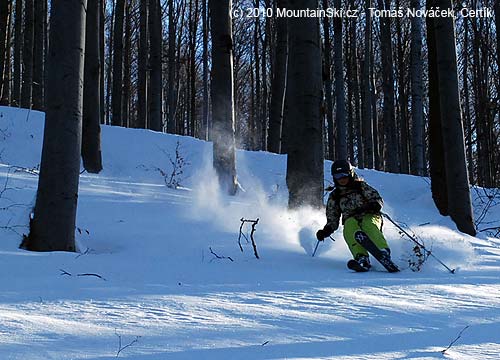 Klára in fresh powder

Blue next to blue – www.MILL.cz

*Lukáš at nice place in beech forest *
We also met a bunch of www.powderline.cz, which also arrived here this year for the first time because of first snow in Beskydy. In the forest was a good light for photography so that boys did not hesitate and taking pictures and everything.

Všeťa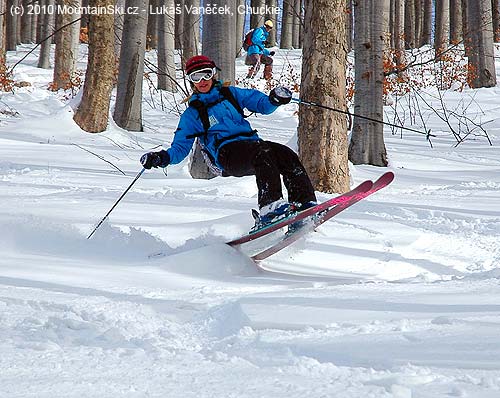 *Verča does the skipping turn, and the beauty of quick photo**

Flying Čestmír váňa-chuckie-Lukáš, it's unfamiliar for you not even us
The rides were almost excelent, only sometimes skier hided a tree or a stump disproved hidden under snow drifts, but as they say, better than the wire to the eye.

We made a crazy things

Sometimes was the stumps very funny  – Čertík Bertík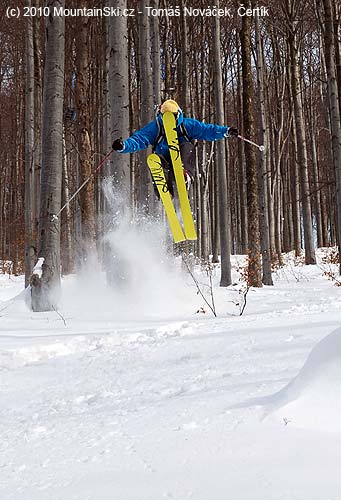 We rely on soft impact
For example, Chuckie nearly lost a ski when a he was fell very pretty breakneck passage by the bush, it was really about 20 meters crash, after he realize that he lost one ski . Fortunately, Tom was fouded the ski without damage under the snow.

Brake next to photographer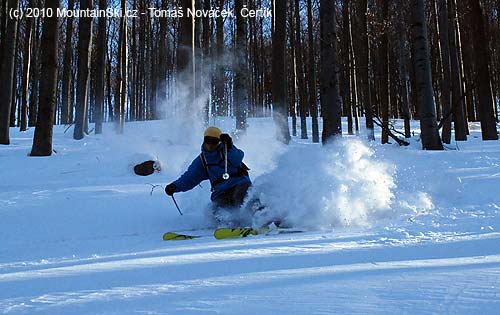 Me at good turn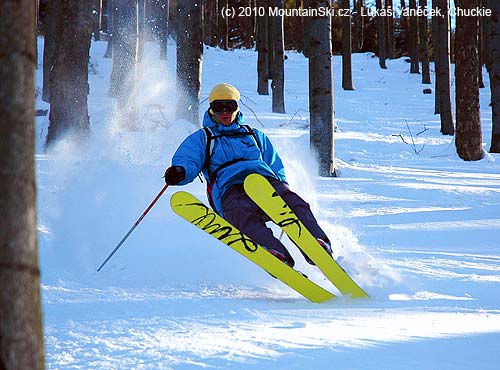 Here insert the brain
When the clouds began to download in the afternoon and the weather started go bad, we decided to go slowly home through Radhošť. Someone looked for alcohol during the way another to the ice sculptures that every year decorate the Pustevny.

Finally we have snow at home, behind me the Trojanovice village

Tom with Klára, behind them is the Radhošť
Verča, I and Vaněc went by skialpskis. Klara carrying skis on shoulder, as Tom, because his skis was fixed on service after our trip in the river last weekend. Downhill cross the mountain Černá Hora was super, bacause of nice snow situation and good terain on the ridge. By the the cottage of peace we skied down to the gas station at Rožnov pod Radhoštěm.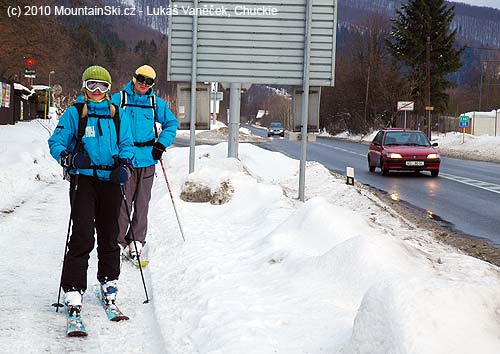 Skialpinists on the road
There we split up and wish the others a wonderful trip to the Alps with words like " Enjoy it, you monsters!" and similar decrees. I and Verča went by skis through the park almost to home.