During the Lyžařský týden převážně s prašanem a částečně sluncem v Bosně a Hercegovině s CK Alpina první týden v únoru, I decided to take a test on avalanche probe G3 240 Speed Tech presented on the Internet website – Boatpark.cz. It seemed to me very efficient to test following new model probe with the interesting waz of the probe fixation in the working position.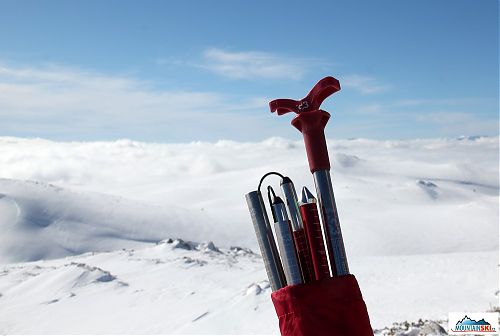 Probe G3 240 Speed Tech hence the packaging was opened (Click to enlarge)
At first glance Probe G3 240 Speed Tech has engaged my attention with an interesting solution of probe fixing in the packaging. Hence you unpack the probe G3 240 Speed Tech out of the box you are supposed to pull a tringular handle. Outside the center of the probe, cable is pulled through the cotter pin, which only loosely moves to the center, where the pin engages. Then your probe is ready for use. It has been simple & fast. Compared with other methods of locking avalanche probe in stretched state (with cable bundle, protrusion spring from the side, etc.) is the solution of G3 very user friendly.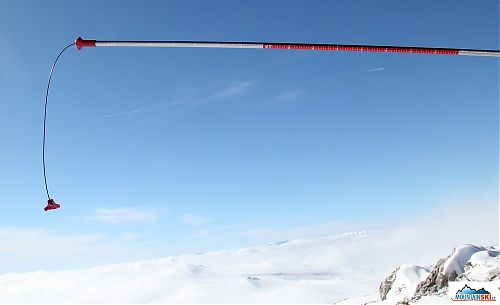 Probe G3 240 Speed Tech in working condition (Click to enlarge)
Let´s have a look at another advantage of Probe G3 240 Speed Tech. Compared to many competing products following probe has very good size of the pipes and well-designed parts for easy expansion tapered probe. To detect the thickness of snow layers, slope measuring and a lot of other things, it has been great that the probe has a scale in increments of 0.5 cm (!). It has been truthfully incomparable with the fact when the probe is completely without scales or only with a rough division of 10 cm steps. As an interesting "gadget" I can indicate a longitudinally shaped probe tip for easier penetration into different solid layers of snow. There was no time or opportunity to try that and compare that with approximately ten other types of tips probes that have been usually used during the avalanche training in Bosnia & Herzegovina.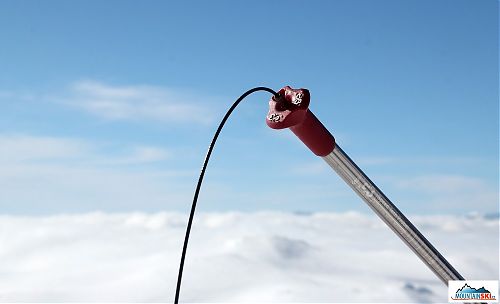 Lock the probe G3 240 Speed Tech is very simple – pulling the pins at an angle and placing it in the middle (Click to enlarge)
Description of the probe G3 240 Speed Tech at Boatpark.cz:
"Completely new design retractable system. Speed TECH probes are designed so that it could well be used as a novice and professional. It combines reliability, while maintaining sufficient strength at low weight."
Advantages:
simple and quick method of fixation avalanche probe
ergonomically well-fitting wire handle
tapered tubes for easier connection
diameter of the pipes
the method tip design with longitudinal grooves is necessary to try, however compared to other probes it can (subjectively) work well
Disadvantages: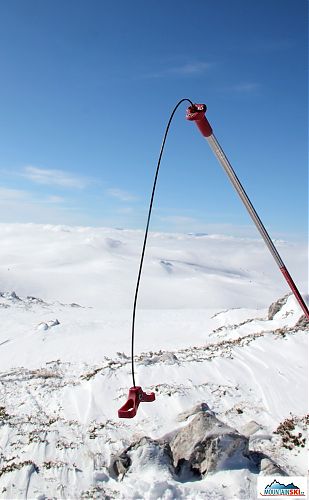 Sonda G3 nad pohořím Jahorina (Click to enlarge)
Features:
rod of lightweight aluminum 7001-T6
a new system for the rapid composition of the entire probe and ease
completely resistive to freezing
the length: 248 cm
the length of one part: 40cm
weight: 231 g
price: CZK 1 730,–, available at Boatpark – G3 240 Speed Tech na Boatpark.cz

Shaped probe tip and numbering for a half of centimeter (Click to enlarge)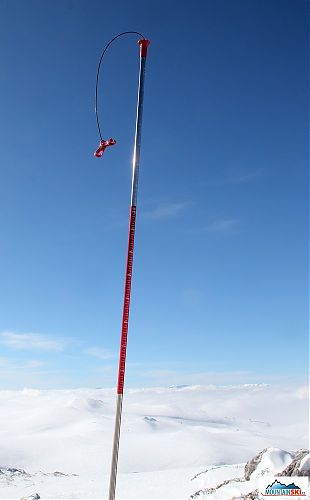 Probe G3 240 Speed Tech in her pure beauty over the mountains Jahorina (Click to enlarge)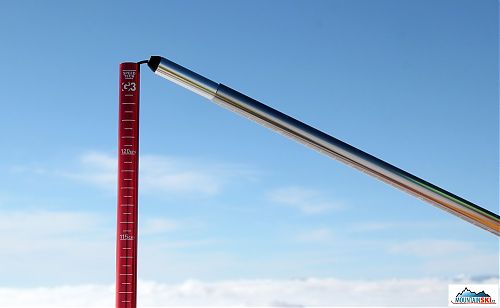 Connecting haunches improve the handling of the probe (Click to enlarge)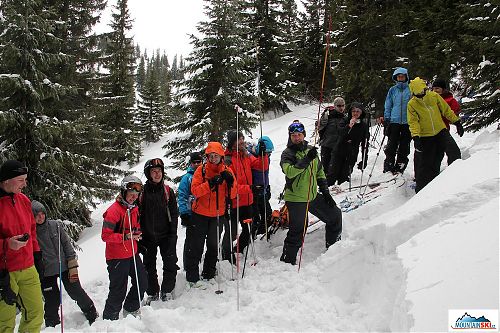 Basic avalanche training using different probes on Jahorina mountains (Click to enlarge)