What's about: that there is indeed a fabulous powder, whether to trust the natives and how many times per week can stick strips.
"Good evening" Pavel said to phone. It is 00:15 a.m.. "So, we are here standing in the front of your hut". We did not make nice first contact at Bosrockhütte. Sleepy Herr Salfinger looks, that he shows us middlefinger. For a luck, Nikola arouses sympathy as she is going with us only from time to time. So that, she does not know, that a punk skialpinist MUST be equipped with sleeping bag, headlamp and pocket tent.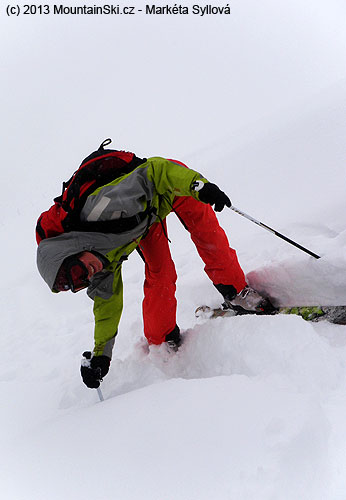 Clouds of snow, for a pity, hardly recognizeable from other clouds
On the other side, we were not happy with the Saturday's weather. We did not underestimate domestic preparation we chose page out of guide book with the combination of words Schlechtwettertour + Lawinensicher + Hochwinter.
We are climbing a slope. We are climbing along the forest. We are climbing along the huts almost covered by snow. We do not see a pass even when we are at the pass. We are continuing with climbing. We meet a lady and a guy in a light blizzard:
"Grüß euch, where do you skin? We climb to na Karleck."
"WE climb to Karleck."
It is strange, that we are in complete opposite direction.
The lady is screaming out very often "Scheiße Kurven", it is probably some kind of incantation, but, as they are local skialpinist, they would be right.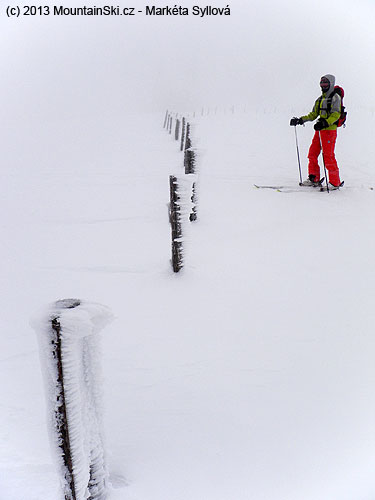 In the pass, probably, we are looking on nice photos in a gudie book – to see mountains, that are probably somewhere around us
We took off our climbing skins and we plunged into the forests and plains. Until today, I thought that powder is purely theoretical issue, which occurs only on www.youtube.com. And then we go in the powder up to the knees, people with the lower growth up to the thighs, it is a cruise! Even that dampens fog joyous bray. Soon I have to powder over my head. The reason is probably the fact that I deliberately one of my skis.

Powder, I have always thought, that it is only in movies
We got some radler beers at the hut. Herr Salfinger slightly melted into a smile. He told us, that we could not be on the summit of Karleck as we are down too soon. Apparently we broke the cardinal rule "Never believe natives". We take on our skins again. Hut keeper raises his eyebrows and praising his favorite Nikola, that she is Sportlerin. Again slope around the forest and over the top. Oh, there's a sign Kleine Bosruck. And again down the most powder slope I have ever seen.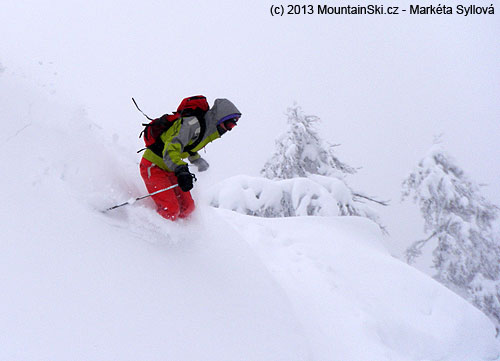 Up knees, up knees, up knees
We got some radler beers at the hut. Skins again. Hut keeper just shakes his head. A slope and around the forest, and finally still virgin slope down. Herr Salfinger says us very dearly goodbye, he is excusing himself that he has no longer places for us today. He looks forward to seeing us soon. I fall into a coma, while Paul with Nikola tries jackets in a supermarket.
We feel nice odour from Pirklalm. And why not, there is accommodated Krumlov's elite. They did not take skis with them any more, but there is almost ready special Christmas cake. There is almost ready pound loaf pan, and fresh salmon in the microwave. That's real recovery after exercise.
Sunday morning is motivational. Skins again on with boundless admiration for the majority of people here. They are continually adding ice to the thermometer to be able to say that it is too cold for skiing today and to pursue cooking.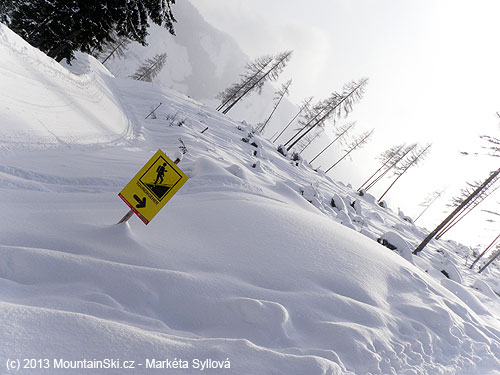 Where? Here?
The hill Pleschnitzzinken is suspected, in addition to its name, especially by a number of ski runs. Rando track disappears in the forest and miraculously threads slope up to the hut buried in the snow on the ridge. Views are inspiring, yet much of the content we solve climb sentence "No wonder you're alone." It is again marvelous trip.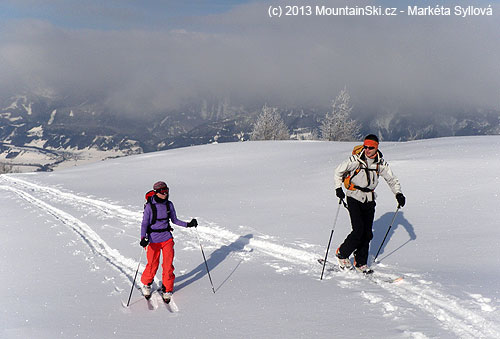 Just hard subjects to discuss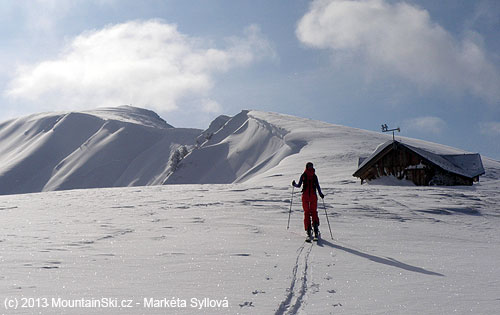 The summit and ridge Pleschnitzzinkenu, closed hutPleschnitzzin­ken Hütte
Either today it is international women's day of ski mountaineering, or the guide book concealed that the mountain is sacred. At the summit there is about ten women on ski in all ages, one dog and Paul. Downhill along the ridge looks quite boring until local ski-tourers send it straight down through the absolutely virgin slopes. We have perhaps learned, again jumping on the speck natives. Fortunately, this time it is not a mistake, rise with us only a few sprinkles of snow balls. And for great success, back up again!

From Pleschnitzzinkenu down to the valleyí – slope, forest, ski-resot, pasture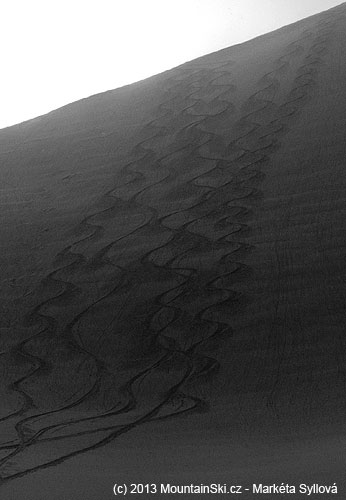 Local skier went here, so we too

Some weekend are simply longer than only 48 hours!
INFO:
Bosruckhütte, opened in winter from Dec 27 till Easter, using snow chains you can reach the hut by car.
Overnight with small breakfast – 12,80 EUR for OEAV members, 16.80 EUR for non-members
Karleck, bigger spring tours around Scheiblingstein, Gr. Pyhrgas
Ski-resort Galsterberg, accommodation Pirklalm
Pleschnitzzinken
The nicest option: From Pirklalm on red tourist mark above Bottinghaus (it is possible to use lift) next on the mark No. 783 through the forest to Pleschnitzzinen­hütte and to the summit.
Literature:
Schitouren-Atlas Östereich Ost