Viktor Beránek announced at site Chaty pod Rysmi (2250 m) possibility for financial funding to finish rebuilding of hut Chata pod Rysmi. He presented it with his excellent style, so I immediately sent him 100 EUR on his account.

Chata pod Rysmi with Czech peal
Announcement in Slovak language from hut's web:
Začínajú sa hlásiť záujemci o sponzorstvo konkrétnej veci na novej chate. Keď máte záujem o tento druh sponzorstva, môžete volať na moje tel. číslo 0903 181051 a dohodnúť ďaľší postup. Prvú vec, ktorú by sme postavili za tieto peniaze, bude kachlová pec, ktorá bude vykurovať 5 miestností / jedáleň, sušiareň, bivak a obe nocľahárne./ V peci sa bude dať aj piecť. Ohnisko bude čiastočne presklené. Okolo pece bude urobené sedenie. Zoznam sponzorov aj so sumou bude uvedený na tejto stránke. Výška faktúry a celkové vyúčtovanie bude prístupné každému kto prispeje. Sponzori nad 100 euro dostanú preukaz doživotnej zľavy 100 % na náš čaj / najlepší vo vesmíre / a 50 % na ubytovanie / s prednostným právom spať na peci! / a moje DVD Zajatci slobody film o vysokohorských nosičoch, živote v horách a jednej chate.Číslo účtu na ktoré môžete poslať peniaze je: 0494332733/0900. Do poznámky napíšte svoje meno a adresu! ĎAKUJEME!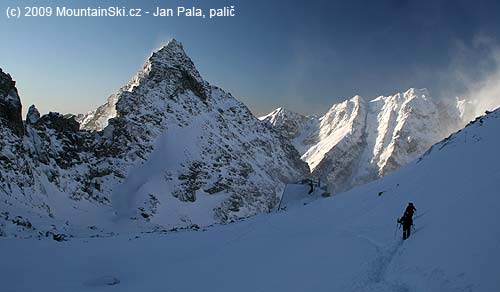 Morning ascend from hut to pass Váha, Kopky peak in background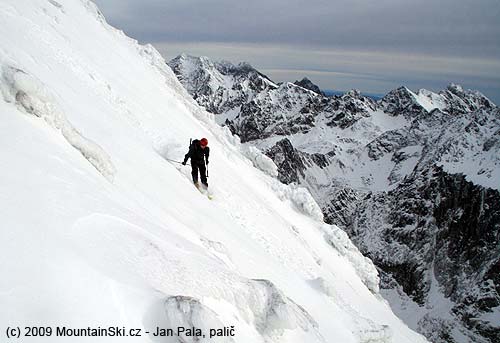 Dušan skiing to Czech valley below ridge of Rysy