I am getting out the chair lift. I have got on it at the hotel  – It is perhaps half an hour, well to be accurate – on the first out of three sections of the lift – First 3-chairlift, then quite fast 4-chairlift and finally 3-chairlift again. Altimeter shows 3000 – about a mile more then the the hotel lies. All around I can see only snowy hills of Caucasus. Incredible great view. It is only twenty hours ago, this hilarious action has began in Prague airport by collecting of clothing and ski – a presents from Hannah. We are on the Hannah expedition.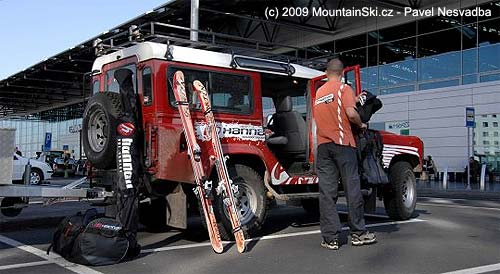 Beginning at the airport in Ruzyne
First skiing
The hill is quite mild, however one side of the upper part is laced with rocks. Particularly one cliff attracts me so much. While I gather the courage (perhaps I don´t jump over the stones) the others rode round the slope and now about 150 meters below makes the audience. Okay, start from the nave, 8 meters drop, after the impact – terrain is more scarified and tougher than I expected. It bowls along quickly and so I need hundred meters, which I'm going straight down, until I get the self-control to be able to turn, but then I'm not worth it so I let go the remaining 150 meters straight. In the end of the roll-out to the group / audience, I let sit off by the wave. Yet the glissade is rewarded with thunderous applause. At this time nobody knows, How we – some more and some less – will be tormented by this field wavelets.

Such normal hill
F…g diffuse light
Before we went down the kilometre in length and breadth of a large hill the fog fell and made the unpleasant diffuse light. The second ride, unlike the first one, is not very nice. The white plain without trees, is not easy for estimating a speed and a inequality on the slope are not visible at all. Sometimes a man flies through the air and not even knows why. Finally, we can see the down lift station. I traverse the slope slowly and suddenly a land disappeared and appears straight before me. The tips of my skis are sinking to the snow and I am doing a flip through the upper edge of the wave field. What is worst my right leg turns much more than is healthy. After a minute for standing the pain I carefully got up and I know that even though the leg is not broken, I will be not able ski for some time. But how long? I go down carefully on one ski to the hotel.
Luxuey
Hotel is perfect. I glut with desserts during the afternoon "coffee time" and then I enjoy relaxation in the pool, whirlpool and sauna, I am not able to catch up a massage. Buying gifts for good hotel prices in the hotel gift and sports shop. Indoor tennis courts are impressive, but for lame leg, I probably had the second time in my life to tennis convince. Table tennis is probably the common equipment of mountain hotels, electrically operated bowling track seems to me very attractive, but having the stupid ankle I can try only billiards (snooker). I avoid the gym with boulder and I train my stomach during the eating at a buffet and bar with excellent Georgian wine.

Bathing suit
Global warming?
Meanwhile, outside the sky is totally overcast and snows and snows and snows. In one and half day it snows at least fifty centimetres. Those most hardened ski, I just make one test ride, and I know that with a painful foot it is not possible. Local gentry say that there has not been such a snowfall in April before. Surprisingly, atmospheric pressure increases with increased snowfall.
**Waiting for God's sake **
Weather forecast morning is good and finally we can plan the helicopter. We are waiting it at a heliport in kit –beg, avalanche rescue machine on. Just my enthusiasm is at low ebb because I know that the right ankle is still unusable, and on top of that the pain was sustained by an inept colleague who is trusted down by vortex air coming from the helicopter and falls on my leg.
Action
Flying by helicopter is an experience for which any description is not enough, it must be experienced. Heliski is also boarding and getting off the helicopter, which evokes scenes from American action movies. We all got through training, what and how we should do, where we have to stand and what to do with the skis. Helicopter does not land on the hills, just rests with one or two wheels on the slope and the rest is hanging in the air. Perhaps this is not fun for pilots, you can see the hell concentrate on them. So air landing must be done as soon as possible. Alternating gets off passengers from the left and right bench that equilibrating is almost ensured. We have to jump quickly into the snow, two steps and kneel. The last two passengers throw out skis and the departing helicopter showers all with snow.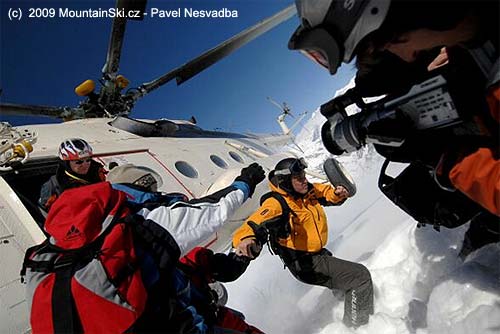 *An action film? *
**Heliski  – first time **
Our Georgian "guides" are afraid of avalanches after intensive snowing so we start carefully, in lower parts sparsely overgrown with trees. Fresh snow above the knee and it is heavy. Trees restrain little bit. I find that the right foot is still completely unusable, so I leave everything on the left. At the end of the slope in difficult conditions, my left leg muscles hurt more than the bones on the right.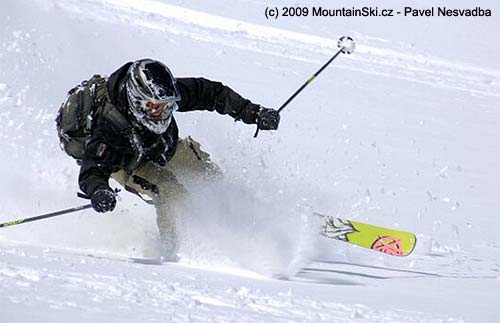 Honza Vlášek
Heliski – second time
Second time fortunately, we're going to run away, higher. View of the snowy mountains is great. Five thousand meters high Kazbek rises nearby. Yeah, just to enjoy the Caucasus in this way is great. Neither the first nor the last time during this week I feel a strong sense of gratitude to Hannah. But now the end of the sentiment – lets go down. "Guides" chose a large, but gentle plain. It turned out that both are just average skiers and they do not want ski something more daring. Last year's expedition Hannah in Uzbekistan we went through difficult troughs and we had to jump into from a cornice. Well not here. Others, who are not so spoiled like me of heliski in Uzbekistan, are still enthusiastic. After all – untouched slopes, there are space to whom you please, helicopter, which rises much faster than the fastest lift – anything unusual things. In addition to this I have still useless leg, so I can enjoy the plains more than troughs. Just a little regret that we have a minimum of photographic and film material from the great terrain at the Tien-shan, while here we have an excellent professional photographer and filmmaker, but we do not ski such super terrain. Finally these plains are really the best for my useless leg, what can be. All that we ride today, I go straight and the pretty on one ski, and I enjoy it. Just guide chew out me several times, because I can not turn and brake so easy and sometimes I overtook him what is prohibited.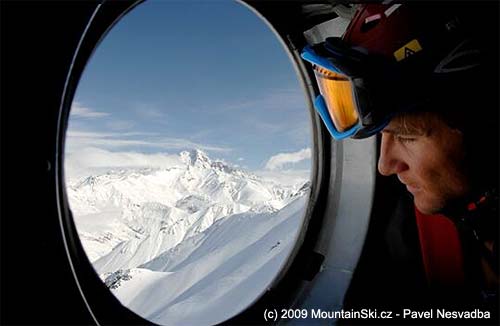 *The Prometheus mountain – Kazbek *
Culture for 500
Next two days heavy snowfall again "Normal" skiing on a slope in limited visibility is boring, however we are not bored. Jumping on skis from rugged roof of the hotel, from chairlift, from the last still not cowered rock. We really enjoy a feast in true Georgian style restaurant in the hotel in neighbour. We go for all-day trip around Georgian monuments. And it is something you have to see. For example, churches. Georgia and Armenia were the first countries that adopt Christianity as state religion (the beginning of the fourth century), so their oldest churches are really old. Our ski guide Vano is also the guide who shows us (not only) the sights. He is an amateur archaeologist in studies (physics), and he guided us truly informed. Excellent man and his ski deficiencies have been forgiven.

Honza Kovář

Historie?
Crust
Finally comes back the "flying" weather. Everywhere is further half-meter of new snow. Avalanches substantially cut our timetable. We can observe some avalanches in the action from a helicopter. Bigger problem is a crust on the surface of snow. Sometimes it relents, then skis delve pretty deep, sometimes it holds. Skiing is somewhere and for someone suffering. For my one leg, almost always and almost everywhere.
Hannah boasting
In the afternoon, Hannah ham up as a super boffin. The following day was supposed as the last day and we should go home. But because the weather forecast for next two days promise a great weather, Hannah pays additional two days in the hotel, additional hours heliski and arranges booking of flight tickets, although there are flights almost completely crowded. Me with my poor feet and Mira with his impossible work responsibilities, we separate and go back in the originally planned date. Others enjoy more heliski in the parade conditions.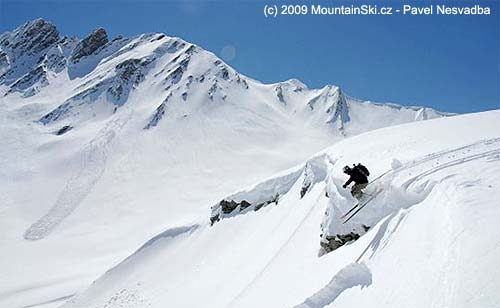 Wow, right?
Next year?
And in the end good news for everybody, who could be attracted by similar event: next year to be considered on the expedition Hannah. Follow the billboards in autumn or website www.hannah.cz Like this and last year it will needed to purchase a product from Hannah, correctly guess the competition question and then break through in the selection round of skiing among the finalists.