During trip Skialpinism at Kamchatka 2009 – list of articles, photos and results I had new model of skis Movement Iki – length 168 cm. Instead of skis presented on official web Movement for season 2008–2009 there are changes in construction and graphic design at Movement Iki  – details are in previous article New skis Movement for 2009–2010.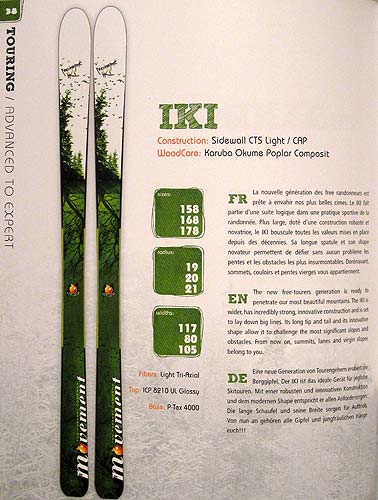 Movement Iki 2009–2010
Trip to Kamchatka was supported by KAMA (caps), Voda hory (backpack Karrimor), Tilak (anorak Tilak Evolution and trousser Tilak Raptor), Quill-outdoor (knives Opinel), www.lacnyskialp.sk (skis Ski Trab) and Baston (glasses Julbo, skis Movement Iki, skialpinism binding Diamir Eagle).

Movement Iki cleaned after night snow fall near vulcano Ostraja
After experiences with a lot of different models of skis for standard downhill skiing or skialpinism – just as example – Artis, Atomic, Blizzard, Dynafit, Dynastar, Fischer, K2, Kästle, Salomon, Sporten, Stöckli, Sulov, Völkl, I met skis Movement about two years ago. I had a lot of skis in that time, so my interest was only teoretical one. Interest came to practice during Pyreneje 2008 – skialpinismus zalitý sluncem in April 2008, where tip of binding was ripped out the ski and new skis had to be bought. So that, I bought in Andorra skis Movement Demon Flame – V Pyrenejích pořízeny nové lyže Movement Demon Flame and I was very satisfied with them.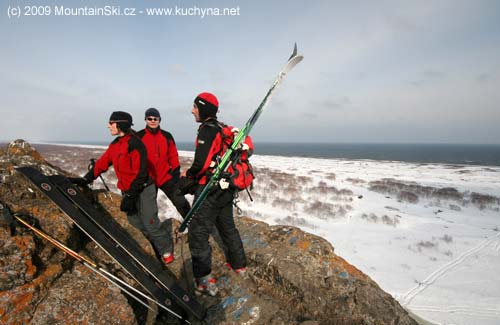 Sightseeing summit near Pacific ocean
For usage of new skis Movement Iki during trip Skialpinism at Kamchatka 2009 – list of articles, photos and results there must be defined conditions at Kamchatka-peninsula:
skis Movement Iki were used every day from April 27 to May 8 (12 days), the only rest day was Saturday, May 8
majority of skiing was on knobed ice surface and overfrozen snow
part of downhill was on firn
part of downhills was on combination of soft snow and vulcano dust
final part of skiing was usually in wet deep snow
flat moving to hills were usually on wet or soft snow
there was not powder snow at all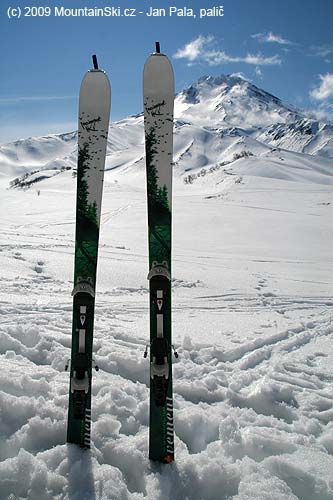 Movement Iki under Viljuchinskij
After 12 days of usage Movement Iki it is possible to conclude wtih these points:
movement on skins on flat surface and up the hills is excelletn, in traverses there were seldomly small troubles due to narrow skin (only 70 mm in the whole length), whereas the width of the ski is 117–80–105
skiing on firn, combination of soft snow and vulcano dust was fantatic
skiing in deep wet snow was excellent
skiing on knobed ice and overfrozen snow excellent, skis are idealy hard for this kind of surface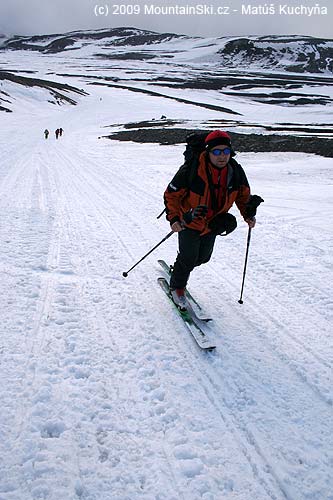 Acclimation under Avachinskaja
I little scratched skid of Movement Iki during moving from cottage between Korjakskij and Avachinskaja in Suchaja river, so the service will be needed before new ski season.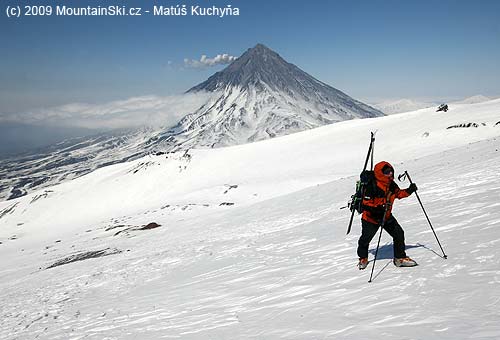 Route to Avachinskaja, steaming Korjakskij in background
Conclusions
Detailed describtion for experience with Movement Iki 2009–2010 will be done during winter season 2009–2010. By the way, after 12 days of skiing and climbiing on these skis I can recommend them as great skis for skialpinism and freeride. Similar evaluation is true also for skis Movement Demon Flame or Movement Red Apple 74.

Route to Avachinskaja on crampons
Links:
Skialpinism at Kamchatka 2009 – list of articles, photos and results Movement
New skis Movement for 2009–2010.
V Pyrenejích pořízeny nové lyže Movement Demon Flame

Still a long way to summit

Skiing from the end of snow from Korjakskij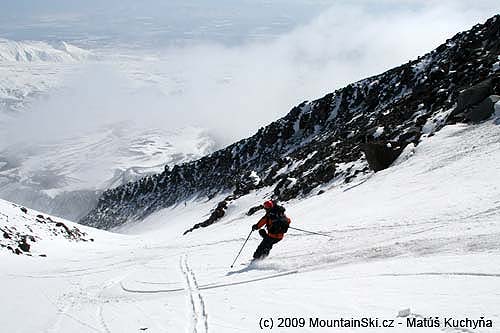 Skiing from Korjakskij

Final part of skiing from Korjakskij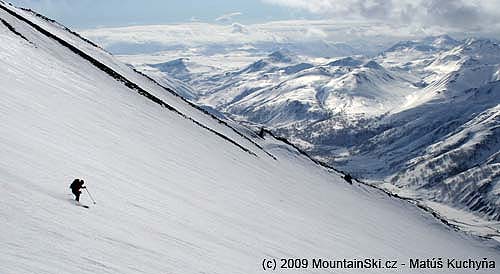 Lower part of skiing from Viljuchinskij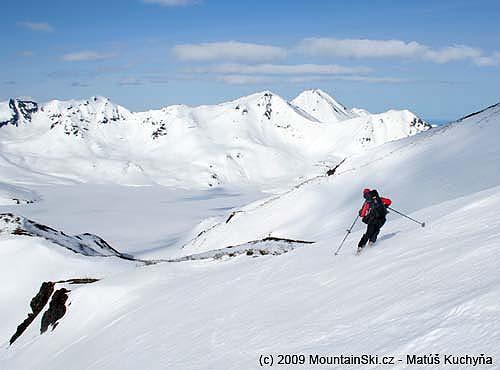 The end of skiing from Viljuchinskij