Weather forecast was quite nice (or at least not very bad) for the weekend, so ve decided to go to Karten again. Our goal was to cross Ankogel (3250m) from West to East. Starting close to Hannover Haus (Ankogelbahn bergstation), Klein Ankogel, Ankogel (3250 m), and then descent to Osnabrucker Hutte.

Arthur von Schmidt Haus (2272 m). At the background in the left upper part Säuleck (3086 m) is seen, right from the hut is frozen Dosener See
Unfortunately, weather at top of Ankogel Bahn was much worser than expected (strong wind, new snow), so we desided to return back to valley and choosed nearby Sauleck (3086m) as a target. Or at least we wanted to spend night at
Arthur von Haus (2272m) and make final decision about summit next day mornig
according to weater. Supprisingly, weather in next valley (about 10km distance) was much, much better and we really enjoyed climb to the hutte.

My new K2 Shuksan near Dosener See (2267 m), Säuleck was their first trip…
On Sunday weather was quite fine, so we started trip in direction to Sauleck. Close to Mallnitzer Scharte we discussed out goal again and find it possible to get to the summit. We continued our way up to the final part on skis. Last few hundert meters we finished without skis.

View to winterraum of A. v. Schmidt Haus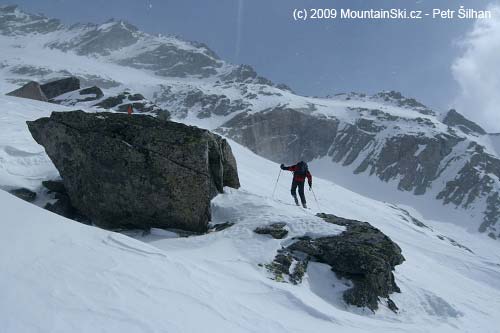 Petr at Mallnitzer Sch. – circa 2700 m, weather was not bad, so we continued

View back to Dosental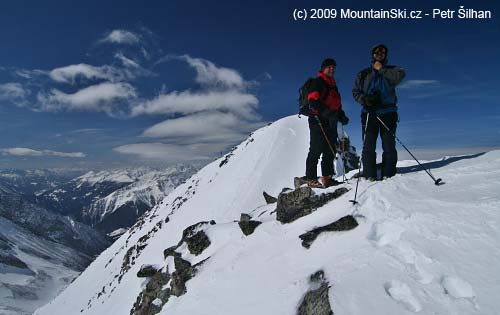 Petr and Zdeněk at the summit of Säuleck – 3086 m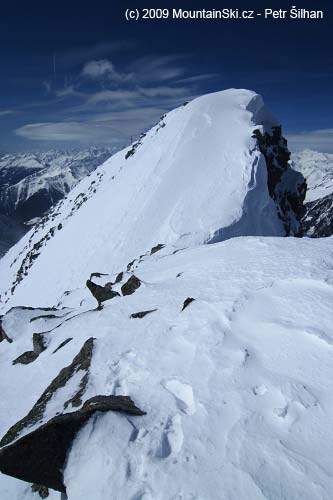 Säuleck – 3086 m

Descend from Säuleck