During our winter stay in Macedonia we realized a whole day long trip from Popova Šapka to the second highest Macedonian summit Titov vrv (2748 m) in March 5, 2013. The weather was marvelous – sun, clear sky and almost no wind. Our group consisting of 25 people with ski-touring equipment, snowboards & standard skis met at the bottom station of the double-chairlift. We didn't want to spend time ascending to the summit of Antena, se we used chairlift.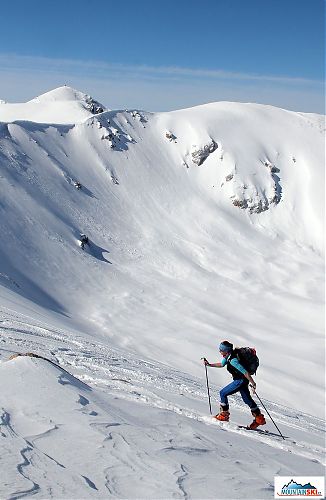 Ascend to the second highest peak today, Titov vrv is on the background (CLICK TO ENLARGE)
Further reading:
Makedonie – lyže, board, sněžnice, skialp, 1. až 10. března 2013
Freeride Sunday in Macedonia, March 3, 2013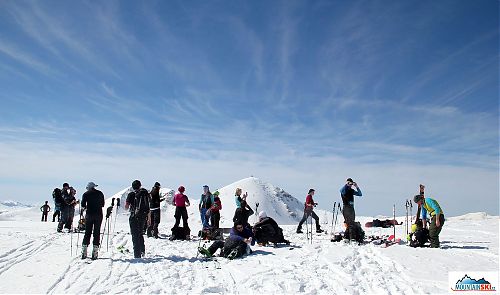 On the summit – Titov vrv is in the background (CLICK TO ENLARGE)
The mountain range Šar planina consists of a lot of beautiful peaks. The highest peak is Titov vrv (2748 m). The ideal start point for ski-touring trip to Titov vrv is ski-resort Popova Šapka.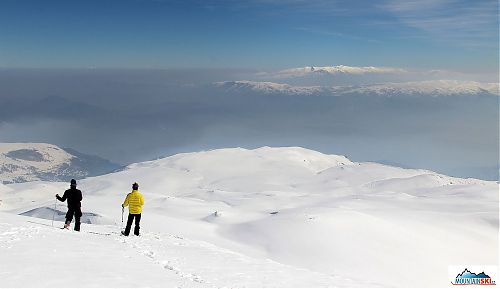 View back to Popova Šapka and deeply down in the valley the second biggest Macedonian city Tetovo (CLICK TO ENLARGE)
We started from the end station of chair-lift to ridde. The first reached summit was Antena. As the whole group was quite big, we divided into several smaller groups. We continued on the ridge to the second highest peak here in Macedonia.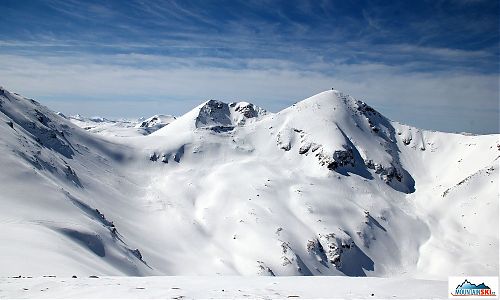 Ideal weather and ideal snow – there is not anything more to wish in the winter Macedonia (CLICK TO ENLARGE)
6 people out of this group of 25 people skied & snowboarded down to the valley – the slope and snow were simply excellent! The rest of the group continued to the pass and followingly to the summit of Titov vrv. We got together at Titov vrv again and toke a lot of photos. We prepared for the donwhill. The first stop was the previous pass. Skiers continued by many traverses to Popova Šapka, whereas snowbaorders climbed on rocky slope again. There was almost from the top excellent downhill – firstly on hard surface and followingly also in about 15 cm of fresh powder snow.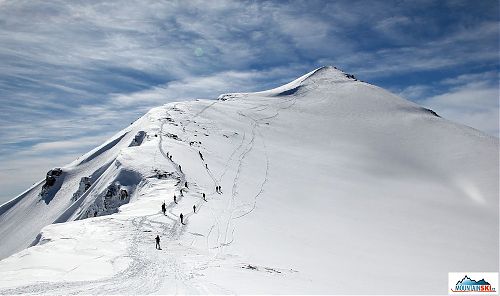 We almost reached a peak Bakardan (2704 m) – just little lower than Titov vrv (CLICK TO ENLARGE)
We returned to Popova Šapka quite soon as the sun was still visible. Our popular requirement for ski-touring trips was not filled – headlamp with us.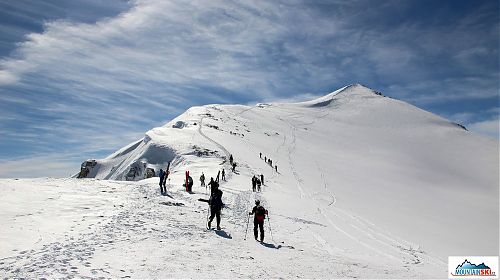 Nice tour on the ridge of Šar planina, there is Bakardan peak in the front of us (CLICK TO ENLARGE)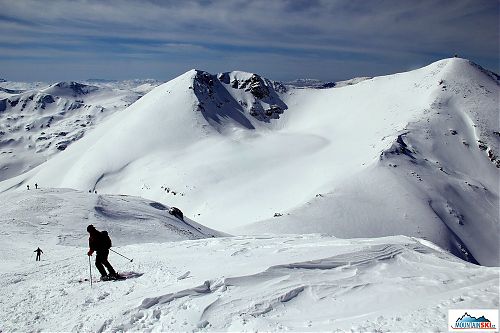 Most people rided down on skis & snowboards to the pass below Titov vrv (CLICK TO ENLARGE)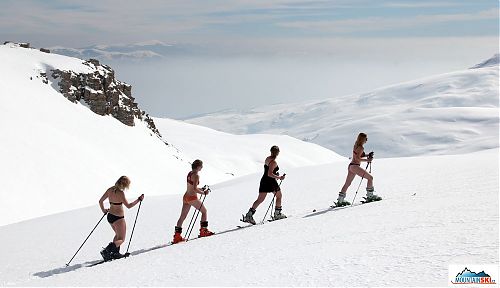 Smaller group rode down to the valley – no wind and temperature was almost tropical (CLICK TO ENLARGE)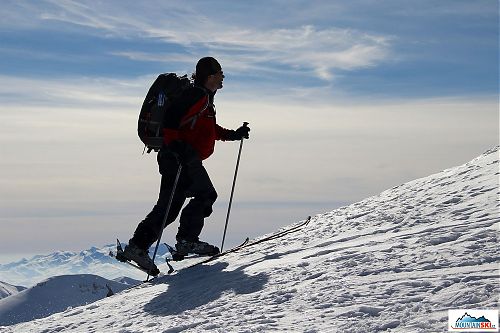 Závěrečný hřeben na Titov vrv, většina okolních kopců je hluboko pod námi (CLICK TO ENLARGE)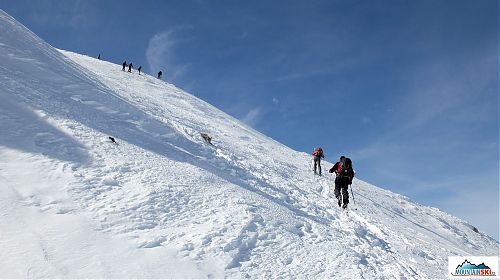 Final ridge to Titov was little steep (CLICK TO ENLARGE)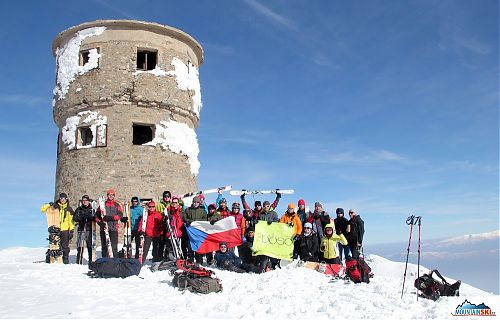 25 people from the tour organized by Naboso o.s. & MountainSki.cz on the summit of Titov vrv (CLICK TO ENLARGE)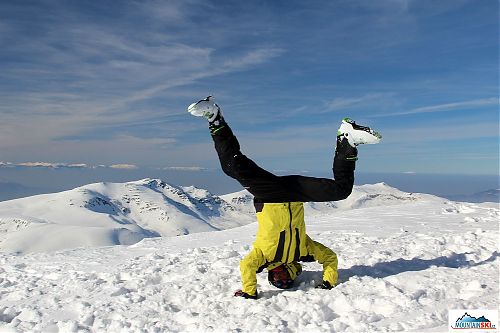 On the summit of Titov vrv (CLICK TO ENLARGE)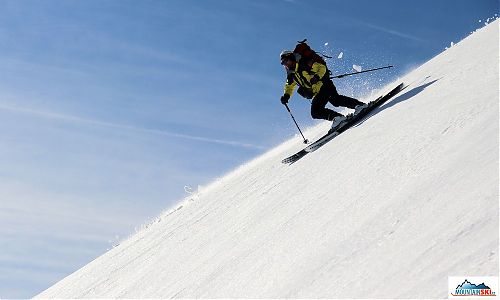 Downhill from Titov vrv on skis Dynafit Huascaran (CLICK TO ENLARGE)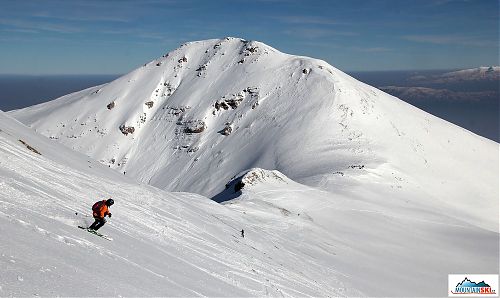 Downhill from Titov vrv (CLICK TO ENLARGE)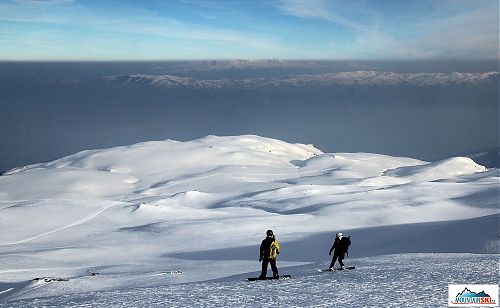 On snowboards through free terrains back to Popova Šapka (CLICK TO ENLARGE)