After long negotiations, who is able to or not, who has some appropriate "an excuse" & who is going to be release by wife, we eventually set off for following skialpinism trip on Saturday 16th. Our group consisted of Mira from Kelč, Mira from Valašské Meziřící & Bruder – the elder for small forest ski trip. Upon arrival in Ostravice and friendly squabble, whether to go to Lysa Hora (1323 m) or check out rather Smrk (1276 m), won the second option.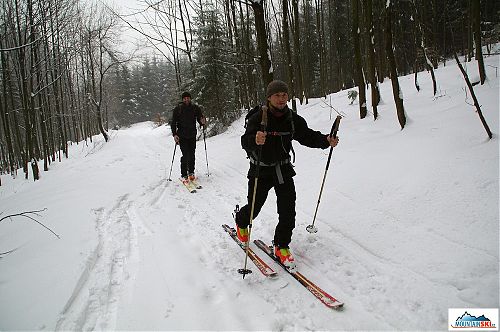 Up to Smrk – Mira & Mira (Click to enlarge)
There were several compelling reasons for Smrk: First of all – there is no bar on the top, so there will be less people. We love people however following friendly associations could be done easily on the slopes. And secondly – Mira & Mira has reached Lysa Hora recently (None of us keeps the record training on annual running to Lysa Hora – no reason to do the same stuff all the time). Thirdly, when myself (Bruder – elder) follows these guys, regardless their previous trips (in the vain hope that they remember something from the past), we could hit a good downhill parts, even if the prevailing weather was not good. Humidity from 93% to 96%, we could not recognize the sky, the visibility within 50 m.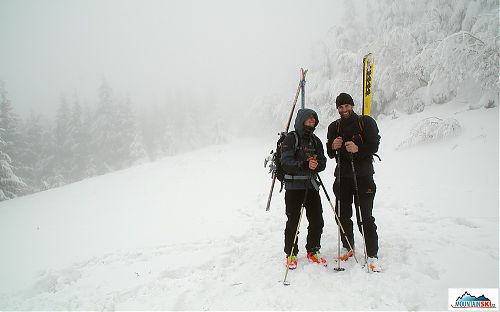 Before the last climb (Click to enlarge)
Both Mira & Mira had the classic ski-touring equipment; I was only about to try a new obtained telemark equipment. Hence we managed our parking (as we were the only one car on the parking place), we immediately set off on the forest trail. We crossed over the stream & warmed up by the straight climbing on the forest path. Following the forest path we got the desired pot called "Under Holubčanka". Then we climbed (without skis) to steep "winter road" to reach the top. Local sidewalk was as usual slippery & covered by frost.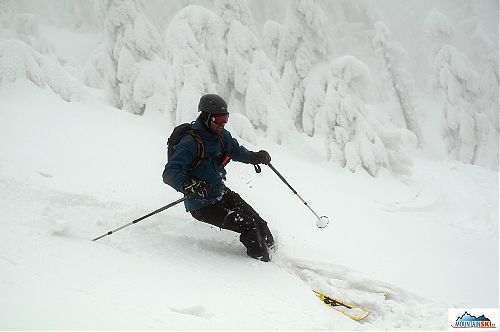 Mira's downhill (Click to enlarge)
There was noticed no difference between ski-touring & telemark equipment during our climb;g besides the weight – nowadays standard of telemark skis is 188 cm length, width 131/98/116. At the top of the peak we met a pair of snowshoers that overnighted on the path under the summit of Malý Smrk in a snow cave. We had a chat with them hence joined us one local jogging man as well as two mountain tourists. As soon as we made our skialpinists & telemark skis ready we went for unexpected spruce downhill.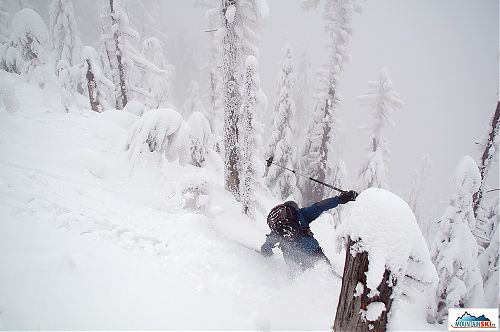 Snow cutting by Mira from Kelč (Click to enlarge)
We started downhill at the same locations as we done last year and almost the same. When you have no memory to remember that – it is important to save that track otherwise – good luck those who following possibility have. I tried to occasionally work on my telemark turns (mostly left them out) however there was not enough place for good telemark movement according to my opinion.. Or how to seriously persuade my fear not to get forest smacks in the face. Luckily NTN telemark bindings Freedom was not a big problem to go classic "alpine style". I have created a few awesome telemark curves however I still have to work to improve my telemark technique.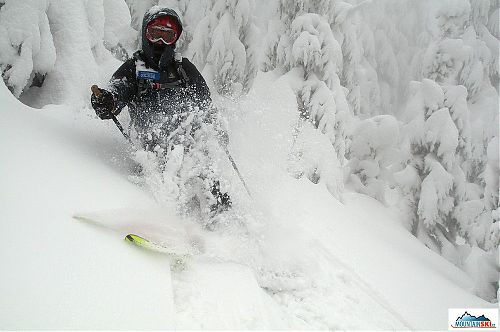 Mira from ValMez – fast edging over the photographer (Click to enlarge)
On the way down we worked on the melodic slogan:* "Who not fall below ride upon his possibilities". So we let our creativity to gently distinguish with the entertaining snow falls. We were so excited and smiling about that one broken stick did not bother us at all. At the bottom part of the forest slope we touched a little bit our skis running surface thanks to various *"invisible" rocks. It was a reasonable purpose to prove our waiting wife-darlings how hard skiing we were supposed to do on the Smrk for the half of the day.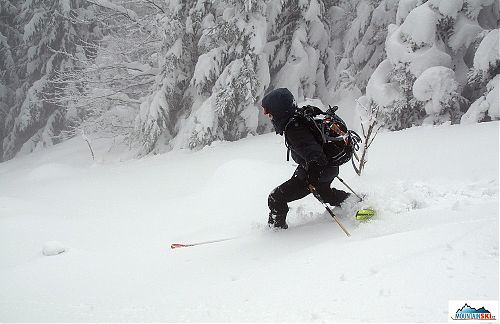 Mira from ValMez –example of telemark performance on ski-touring skis? Please have a sharp eye at the back ski… (Click to enlarge)
Anyway, all of us were excited about our Smrk ski trip despite Saturday's foggy weather. Hopefully there will be a next arrival of a fresh snow with no further fast melting how it has been usual for following winter season. We hope to get to Smrk again next time this season in the same amazing way as we have done this Saturday, Feb 16th.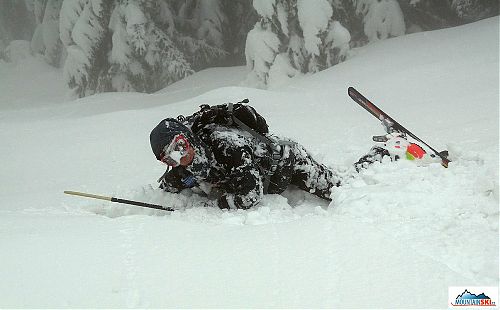 Mira from ValMez – snow test, yes! The end of the stick has not been edited by Photoshop software,but by protagonist himself (Click to enlarge)