Between March 5 and 8, 2010, I went with bunch of people around Přerov to Austria. The beginning of the trip was funny for me, because I know them only through car-share offer on friendly web powderline.cz and few e-mails. Finally, everything came out great, people, snow and even the weather.

Kitzbuhel
On Thursday evening I leave to Přerov and then to small village nearby, where I have meeting with the organizer of this event Vašek. Buses to Přerov are bad in the morning, so I sleep in Vašek's place. In the morning we packed everything in the VW Caravelle and going to Austria in composition of 3 off-piste and 4 on- piste riders.
Around 12 o'clock we are in first resort, which name I will not reveal. It's small, ideal terrain's for freeride and available from the lifts. And most important thing- it's with any people. Snow is fresh pow, so we're enjoying all plains and woods. Unfortunately it's foggy, which isn't good for taking pictures. But it's great for funny moments, mostly crashes. In the evening we're moving to our accommodation.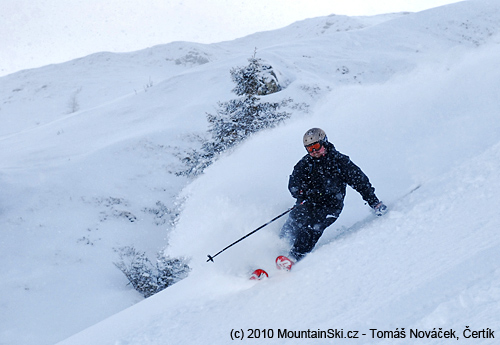 Dušan in snowstorm
Kitzbuhel is our decision on Saturdays morning, because there was heavy snowstorm yesterday. Finally we spend here the rest of our trip. Vašek and Dušan are familiar with local terrains, know them very well, so it's great riding even its foggy again. But the strong wind changes our plans for all day riding and stop's lifts in entire Kitzbuhel. We're going through unofficial freeride zone. It's great downhill in fresh pow! Only the lower part is without much snow, mostly in the woods.

Tree-ride
On Sunday the weather is changing and so we go on the plains until the fog came down and then we move into the woods. The entire Kitzbuhel is a full of skiers on the fat-skis, so everything is back rutted. Fortunately, the guys always set out a new spot, where the powder remains sufficient.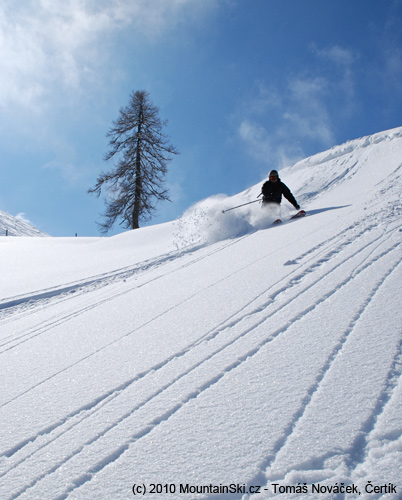 Spots without lines after weekend
Final ridig on Monday is full of sun, but with absence of fresh pow. South parts are with heavy snow around noon, therefore we go for last descent to the valley soon. We choose different line than in days ago and so the last part is very funny by slope and (un)stability of snow. Everything ends OK and the journey to home is already small deliverance from tiredness of last 4 powder days.

Nice line with bad access – Čertík Bertík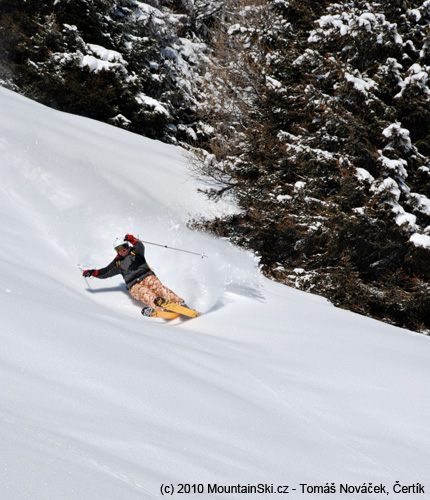 Venca in high-speed

Pow

Pow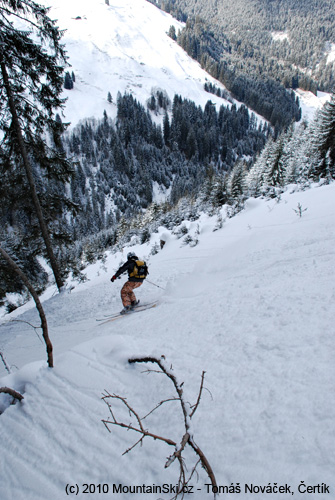 Last descent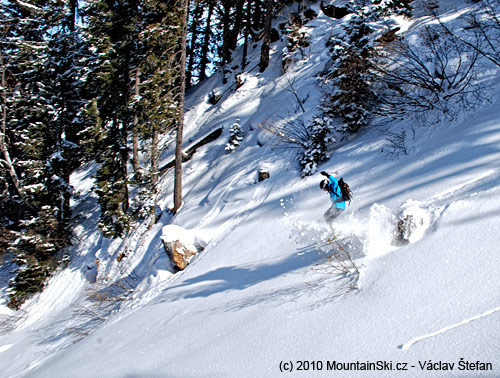 Čertík Bertík – www.mill.cz